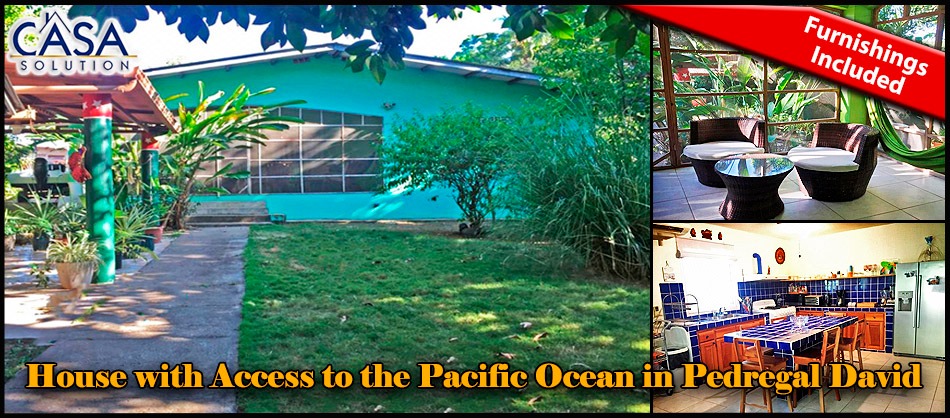 Boat Lovers' House for Sale with Access to the Pacific Ocean in Pedregal David – Casa de Amantes de Botes en Venta con Acceso al Océano Pacífico en Pedregal David
House Size
: 1,920.00 Sq.Ft
178.00 Sq.M
Lot Size
: 846 Sq.M
0.21 Acres
Location
: Pedregal, David, Panama
This home is in David on the estuary leading to the Pacific Ocean.  It is just minutes to fabulous islands and fishing grounds.
This house was modeled after a typical Florida house. On the estuary there is enough space to either build a boat dock or install a ramp.  There is a shaded carport driveway with a roof tall enough to accommodate a boat.  The completely fenced backyard ends at the estuary – you can unload your catch of the day, take it to your own rancho and clean your fish before entering your own home.
Only about 4 minutes to the David airport, the property is very conveniently located.
Also, a marina and boat storage are available nearby.
Fruit trees abound along with many varieties of flowering plants in the garden.
There is a full backyard grass lawn and fenced-in garden.
There are ceiling fans & split A/C units in every room.    There is a bohio barbecue area, fish cleaning station and outdoor storage shed included.    The house comes with secure window and doors a screened-in porch and secure perimeter.  There is an interior secure storage room with hookup ready for ice maker and a lay down freezer within the  interior storage room.  Water supply is always available through city potable water plus a large water tank.  The electric water heater supplies unlimited hot water.
This house has the potential to easily become a B & B, hostal or fishing base lodge.
---
Casa de Amantes de Botes en Venta con Acceso al Océano Pacífico en Pedregal David 
Esta casa está en David en el estuario que conduce al Océano Pacífico.  Está a solo minutos de fabulosas islas y zonas de pesca.
Esta casa fue modelada a partir de una casa típica de Florida.   En el estuario hay suficiente espacio para construir un muelle o instalar una rampa.  Hay una cochera sombreada con un techo lo suficientemente alto como para acomodar un bote.  El patio trasero completamente cercado termina en el estuario: puede descargar su pesca del día, llevarla a su propio rancho y limpiar su pescado antes de ingresar a su propia casa.
A solo unos 4 minutos del aeropuerto de David, la propiedad está muy bien ubicada.
Además, un puerto deportivo y almacenamiento de barcos están disponibles cerca.
Los árboles frutales abundan junto con muchas variedades de plantas con flores en el jardín.
Hay un césped de jardín completo y jardín cercado.
La casa es lista para mudarse, amueblada.  Hay ventiladores de techo y unidades de aire acondicionado divididas en cada habitación.  Hay una zona de barbacoa bohío, estación de limpieza de pescado y cobertizo de almacenamiento al aire libre incluido.  La casa cuenta con ventanas y puertas seguras, un porche protegido y un perímetro seguro.  Hay una sala de almacenamiento interior segura con conexión lista para la máquina de hielo y un congelador en la sala de almacenamiento interior.  El suministro de agua siempre está disponible a través del agua potable de la ciudad más un gran tanque de agua. El calentador de agua eléctrico suministra agua caliente ilimitada.
Esta casa tiene el potencial de convertirse fácilmente en un B & B, hostal o base de pesca.
Por favor comuníquese con Casa Solution si desea visitar esta propiedad o si tiene preguntas acerca de esta Casa de Amantes de Botes en Venta con Acceso al Océano Pacífico en Pedregal David