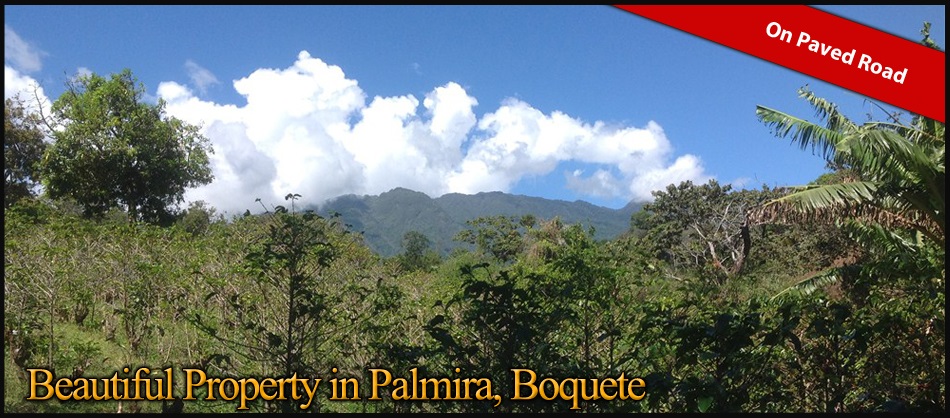 Great Price! Palmira, Boquete Beautiful Property. – Over 2 Fantastic Hectares. – Hermosa Propiedad en Palmira Boquete, Más de 2 Fantásticas Hectáreas.
Lot Size
: 22,392 Sq.M
5.53 Acres
Location
: Palmira, Boquete, Panama
Surrounded by incredible views of Volcan Baru, the valley towards David, and the Jaramillo Hills, this land is ready to build your dream home, or to develop into a beautiful community. It would also make for an excellent retreat hotel or resort location.
Most of the property has mature coffee plants that are currently being harvested.
Towering Eucalyptus trees bring added character and beauty to the scenic setting.
There are many varieties of fruit trees, and beautiful, flowering foliage, along with large, beautiful, hardwood trees that create the perfect balance of sun and shade.
Water and electric are already connected to the property, and the access is ideal located on the new paved road connecting Palmira and Volcancito.
Less than 15 minutes to downtown Boquete and in a high altitude temperate microclimate.  It's a great property for sale in Boquete.
Also available is half of this property for half the price.
***************************
Hermosa propiedad en Palmira Boquete, más de 2 fantásticas hectáreas
Rodeado de increíbles vistas del Volcán Barú, el valle hacia David, la Jaramillo Hills, esta tierra está lista para construir su casa de sus sueños, o para convertirse en una hermosa comunidad. También haría una excelente ubicación hotel de descanso o complejo.
La mayor parte de la propiedad cuenta con plantas de café maduros que se están recogiendo actualmente.
Imponentes árboles de eucalipto traer añaden carácter y la belleza de la creación escénica.
Hay muchas variedades de árboles frutales, y hermoso, floración follaje, junto con árboles grandes, hermosas, piso de madera que crean el equilibrio perfecto de sol y sombra.
Agua y electricidad ya están conectados a la propiedad, y el acceso está situado ideal en la nueva carretera asfaltada que conecta Palmira y Volcancito.
Menos de 15 minutos al centro de Boquete y en un microclima templado de gran altitud. Es una gran propiedad en venta en Boquete.