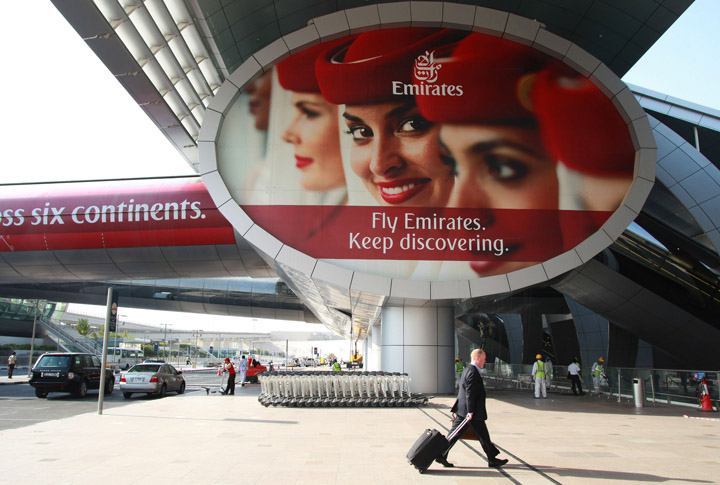 With their iconic sailboat shaped buildings, man-made island projects, rapid real estate development, extensive tourism, tallest skyscrapers* and regional financial services dominance, Panama and Dubai share many defining characteristics. One might call them sister cities between Latin America and the Middle East. Now the two countries also share a direct flight, the longest in the world.
For those who dream of a rich sheik sweeping in to pay top dollar for their properties, those dreams just got a little closer to reality.
Panama has been recently noted as a growing focal point for the ultra-rich. This new flight is part of that trend. While they might come on their own planes, the ultra-rich need access for their less fortunate friends, family and minions.
*for Panama – tallest building in Central America; for Dubai – tallest building in the world
Bloomberg Business, August 13, 2015, by Deena Kamel
"Emirates is set to wrest the title of world's longest airline route from Australia's Qantas Airways Ltd. with a service between its Dubai hub and Panama City.
The flight will traverse 13,821 kilometers (8,590 miles), according to the Great Circle Mapper website, outstripping Qantas's Sydney-Dallas route by 17km. Emirates will use a Boeing Co. 777-200LR — the longest-range jetliner — on the service, which will take 17 hours and 35 minutes, it said Thursday.
The longest-ever non-stop sector, operated by Singapore Airlines Ltd. to Newark, New Jersey, spanned 15,344km and took about 19 hours. The daily all-business-class service was halted in 2013 along with a 14,113km Los Angeles route, with analysts suggesting the flights weren't viable with the aging four-engine Airbus Group SE A340 jets that the Asian carrier deployed.
For Emirates, Panama will serve as a gateway for onwar
d business and tourist travel to cities across Central America, the Caribbean and northern South America, as well as providing capacity for imported electronics, machined products and drugs, Chairman Sheikh Ahmed bin Saeed Al Maktoum said in the release.
Distance Record
The twin-engine 777-200LRs used on the route, which starts February, will have 266 seats in three classes. The model set a world distance record in 2005 when flying 21,601km — more than halfway round the world — eastbound from Hong Kong to London with a minimal passenger load. The usual range is 17,000km." continued