This potent article from Forbes has all forces pointing to Panama as a shining economic and investment star of the Americas. It not only states that Panama's economic success has just begun, but that it is poised to become an enormous economic success story.
The redirection of international real estate investment in Panama's direction, excellent weather, stable pro-business government, the dollar based economy, impressive architecture along with startling skyscrapers, tourism attraction, pivotal geographic location, strategic logistics position, relative affordability, rich culture, biodiversity, long-term consistent economic growth, tremendous appeal to retirees, extensive multinational corporations and natural beauty are some of the many factors beyond mining, financial services and the Canal that are propelling Panama's rise.
The Casa Solution website now offers over 2,000 properties currently for sale throughout the country. Casa Solution stands ready to assist you in purchasing your piece of Panama's great future.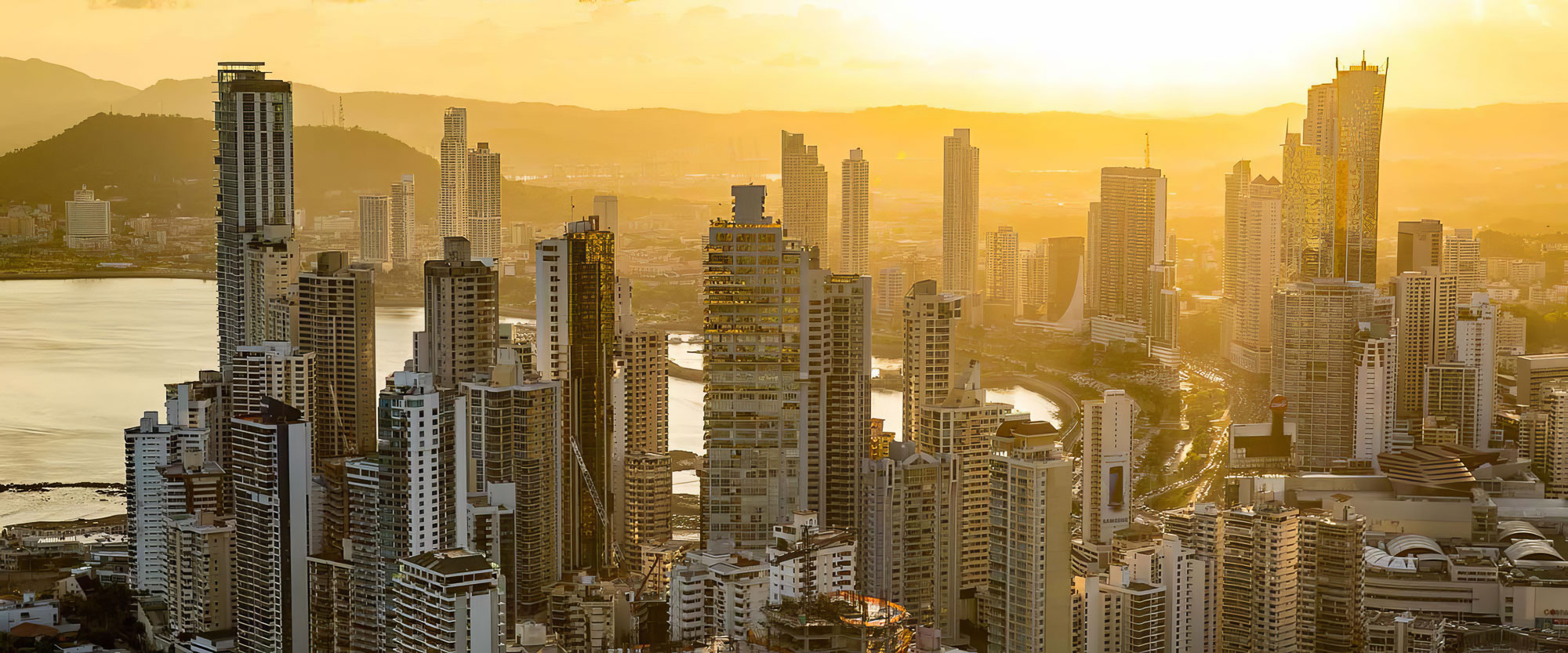 Excerpts:
"The American residential real estate market, despite being a significant part of the U.S. economy, rarely grabs headlines. However, recent trends suggest that foreign buyers are becoming less interested in the American housing market, which could be advantageous for Panama."
Great News for Panama
"Which is ultimately why NAR's report—as much as it was met with a collective groan across the U.S. broker community—is great news for Panamá and its capital Panamá City specifically.
Excellent Quality of Life
First off, unbeknownst to many foreign investors, Panamá City is actually a lot like Miami and Los Angeles, especially when it comes to the quality of lifestyle that it offers. The climate year-round is temperate to sub-tropical. Most people speak multiple languages, especially English. There are world-class museums and restaurants, as well as a sizzling nightclub scene. The economy is U.S. dollar based. And you'd be just as likely to bump into a global CEO or billionaire at a low-key BBQ joint in Casco Antiguo or Costa del Este as you would be at Nobu in Beverly Hills or Midtown Manhattan.
Luxury Residential Towers & World-Class Architecture
"It's the kind of skyline-defining architecture that you can't unsee once you do.
Then there are Panamá City's recently developed luxury residential towers, many of which have been conceived in collaboration with some of the world's leading style icons… Star designers have been successfully partnering with local architects and realizing their sophisticated visions in Panamá City for a while now"
"A big part of Panamá's ability to stay on the cutting edge of global style and design is the country's location at the pivot point of the western hemisphere, along with being an international corporate and banking epicenter."
International Reputation as More for the Money
"Perhaps most importantly in today's market, Panamá City is quickly earning an international reputation for offering more for the money compared with well-heeled real estate hotspots like Dubai, Miami, London, Paris, and New York.
A Value Play – Safe, Well-Located, Cosmopolitan & Global
"Panamá is still very affordable internationally for high-end residential properties of all kinds," says Zampogna, "And because of that there's amazing growth opportunity. You get a lot more for your money in terms of size, finishes and amenities, and quality of life can be tailored to your needs far more efficiently. Many foreign buyers looking for a new fiscal address find Panamá attractive in a ton of ways already. But then they quickly realize that Panamá is a value-play as well as a life-strategy decision. Panamá is a strategic place to raise a family and put roots down for a new business. It is a safe metropolis that is very well located in the region for travel. It has good schools with international communities and competitive curriculums, while also being very cosmopolitan and global."
An Exception Among Nations
"Take all of the high-brow architecture away, however, and Panamá's still a rare haven of stability."
"All of which makes Panamá an exception among nations.
U.S. Dollar Currency, Excellent Infrastructure, Diversified Economy
The country has no standing military; just a robust police force and it's protection is guaranteed by the U.S. Armed Forces as part of the Panamá Canal Treaties. Panamá's currency is the U.S. dollar, not simply pegged to it. Its infrastructure— including the country's roads, bridges, and airports—is world-class, its government is freely and democratically elected, and its economy is widely diversified compared to countries like Costa Rica and Belize who are overly-dependent on tourism."
Economic & Political Stability
"Panamá's economic and political stability has always been kind of a secret," says Henri Mizrachi, a former civilian Director of the Board of the Panamá Canal. "We just haven't had the need to shout that from the rooftops in order to attract foreign investment. Our banking system is world-renowned, our U.S. dollar-based economy is resistant to the risks that other Latin American countries face, and we have invested heavily in infrastructure and technology to take advantage of our location at the center of the western hemisphere. The only difference now is that everyone else is finally taking notice even though we're a small country of only four million people."
"Panamá's real estate market is also stable and appreciating, making it an attractive place to invest when other hotspots start to cool.
"Florida for years has been the main object of desire for offshore prospects," says IGR Panamá's Spiegelman. "The weather and low taxation were big draws. The cost of entry was comparably low at the time. The big change took place during the pandemic, which altered U.S. demographics and forced higher prices. Add those factors to higher costs for everything from construction materials to hurricane insurance and you have a perfect storm to cool the American market to offshore buyers. When one considers the other options, countries like Panamá meet many if not all of the requirements of these prospects."
Rich Biodiversity
"Most visitors who come to Panamá for the first time are especially surprised by the incredibly rich biodiversity that we have to offer; yet, still with excellent connectivity and proximity to metropolitan centers," Guillen tells me. "We are fortunate to live amongst rainforests, national parks, and beautiful coastal areas that provide a variety of activities for visitors to experience a very short distance from our main cities. We also have some very famous places for scientific research; for example, the Smithsonian Tropical Research Institute (STRI) has been established in Panamá for over a hundred years. A visitor can have an adventure—hiking trails, observing wildlife, taking beautiful photos all day at the Soberanía National Park for example—and then get back to a marvelously restored 5-star hotel in Panamá City to freshen-up in time for an amazing gourmet dinner surrounded by architectural masterpieces."
Welcoming to Foreigners
"Historically, we have attracted expats, retirees and investors alike, and Panamá has welcomed them as our very own," continues Guillen, "But not with the same intent and focus as we're doing now. The beauty of this is that people who now come to stay, love this country so much that they continue to help develop tourism, as well as their communities as whole, just by having established an initial investment here. These investors eventually become 'Panameños' and enjoy everything Panamá has to offer. As Panamá continues to invest in tourism promotion, and especially now with the work the Panamá Tourism Authority is doing alongside the International Tourism Promotion Fund (PROMTUR), more people are discovering our excellent travel options and the "conscious tourist" is finding new hidden treasures all around our diverse destinations. As Panamá's reputation continues to grow globally, that will better position us as a retirement and real estate investment destination."
Location, Location, Location 
"Another reason U.S. real estate's temporary loss could be Panamá's gain is location, location, location. When it comes to centrality, Panamá drew one of the best geography cards in the global deck. The country lies almost exactly at the nexus of the Americas, halfway between North and South America, and equidistant between Europe and Africa and Asia on the hemispherical map.
Direct Flights from 85 plus Cities in 37 Countries
That means Panamá is close to everywhere as well as having direct flights from more than 85 cities in 37 countries, including Istanbul, Paris, Madrid, Amsterdam, and Armenia. From Asia and Africa, dozens of two-step flights arrive into Panamá City's Tocumen Airport through Los Angeles, Mexico City, Frankfurt, Germany, and Sao Paolo or Rio de Janeiro, Brazil.
Passport, Immigration and Residency Opportunities
"Last but not least working in Panamá's favor is that foreign buyers rarely invest in offshore real estate to actually live there. Most invest to make money, either through income earned through short or long-term rentals or appreciation over time, or both. Others invest for tax "abatement" purposes. Many more are looking for passport, immigration, and residency opportunities.
On all of these fronts Panamá is hard to beat, while other countries like the U.S. are cracking down."
The Switzerland of Latin America
Not surprisingly, Panamá is frequently referred to as the "Switzerland" of Latin America in the same way Dubai is to the Middle East, and currently supports global operations for more than 189 multinational corporations including Procter & Gamble, Heineken, Caterpillar, BMW, and steel giant ArcelorMittal.
Real Estate Visa Programs
"The Panamanian government recently created a 'Golden Opportunity" for those interested in either a visa or future citizenship to compete with countries like Portugal, Mexico, and Spain for foreign investors and especially retirees," says IGR Panamá's Spiegelman. "The primary program that would attract a real estate investor is the Qualified Investment Visa. For $300,000 invested in real estate, the owner can apply for a Panamanian visa in 60 days. Once the visa is issued, the owner can apply for citizenship in five years. The advantages of this program vary depending on one's country of origin. But in all cases Panamá offers significant tax advantages and does not tax income from income earned abroad. For foreign buyers from countries that may make entry to the U.S. difficult, Panamá's visa program alleviates that hurdle, which creates an attractive incentive to offshore buyers and investors with a long-term plan and view.""
As for Panamá, there's no place to go but up.
It's Panama's Time Now
"Foreign buyers have considered Panamá in the past," says Spiegelman, "So, it's not like the country's a dark horse or late to the game. The truth is that Panamá as a whole has done very little to promote itself and raise its profile internationally, which is why it's remained a well-kept secret. That's changing now as more information is getting out there. In a turbulent world right now, people are looking at all alternatives and options. And when combined with climate, culture, health care, banking and finance, low cost of entry, and high value real estate at very affordable prices, it's Panamá's time now."
Read the Full Article: https://www.forbes.com/sites/petertaylor/2023/09/11/foreign-buyers-are-finally-cooling-on-americas-overheated-housing-market-thats-great-news-for-panam/?sh=557030ee7362
Follow us on Facebook, Instagram. Subscribe to our Youtube channel . Keep up to date on new listings and area information.