Lucero Homes and Golf, Boquete, Panama – Houses, Townhouses & Lots for Sale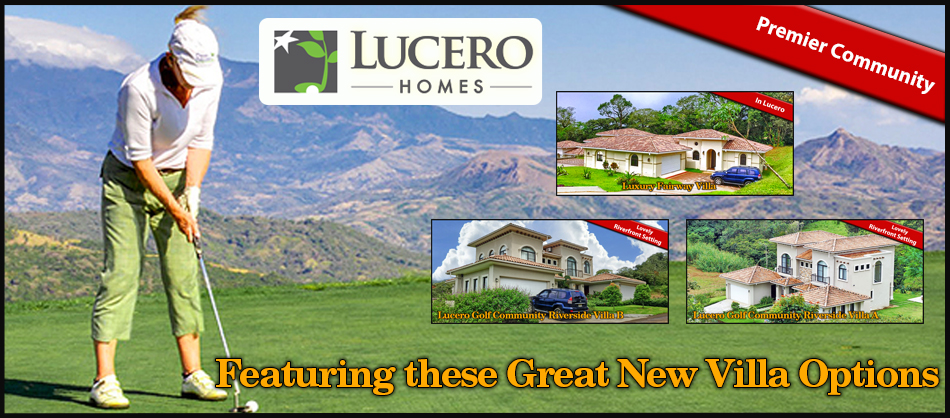 This fabulous community with many of the finest houses in Boquete and an astounding 18 hole championship golf course has become a favorite of the discerning Boquete resident.  The property is beautiful with a myriad of impressive new luxury homes.  The golf course is clearly one of the best in the country and the clay tennis courts are unique to the area.  The developers have continued to make major investments into the community by completing the final stretch of a freshly paved road now leading all the way from downtown Boquete right up to Lucero's entrance.
Lucero residential options are varied and impressive.  Ask us about the houses, condos and other options available for sale in Lucero, Boquete.
Houses Currently for Sale in Lucero, Panama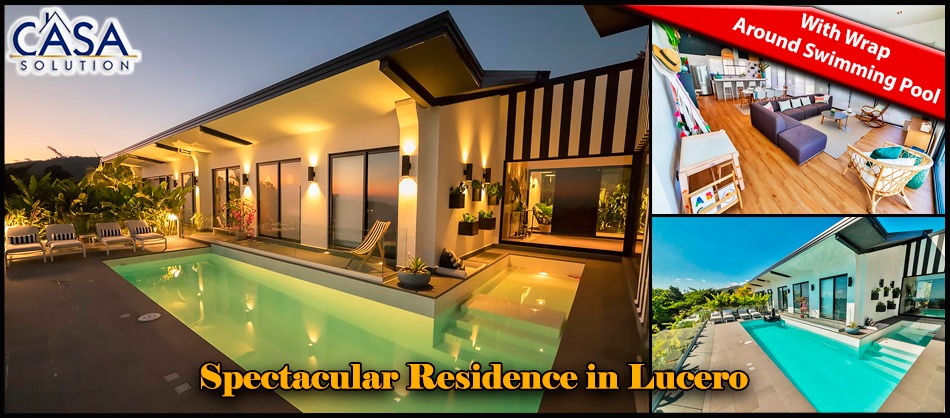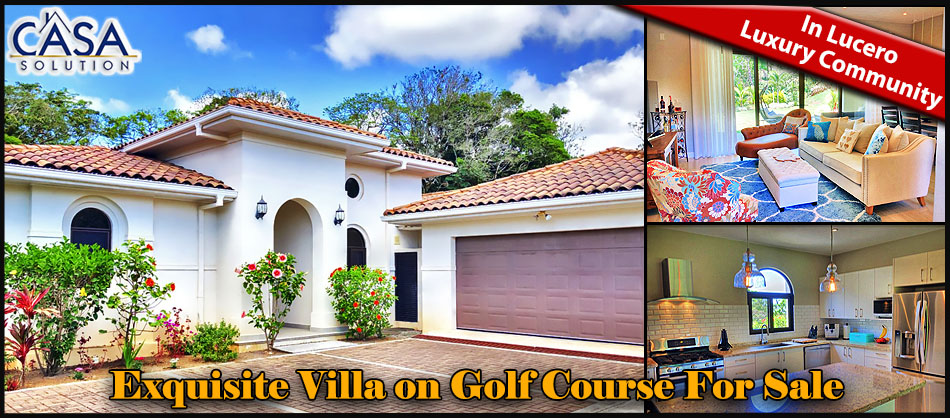 Exquisite Villa on Golf Course for Sale in Lucero, Boquete, Panama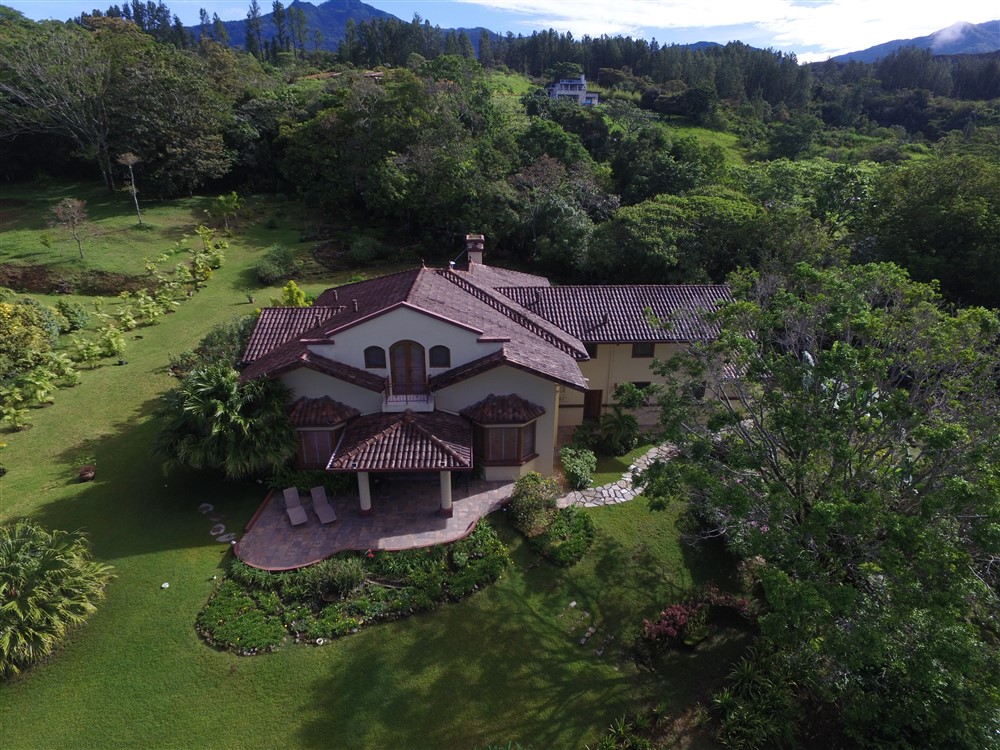 Beautiful House for Sale on a Lovely Acre of Land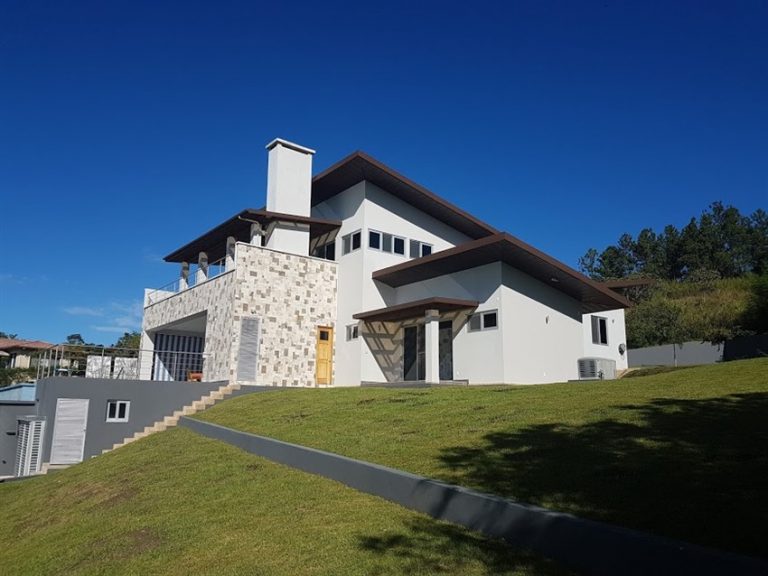 Modern House with Infinity Pool, Large Lot and Grand View in Lucero


Luxury House for Sale in Lucero

Featuring townhouses that have recently been completed and are now available for sale: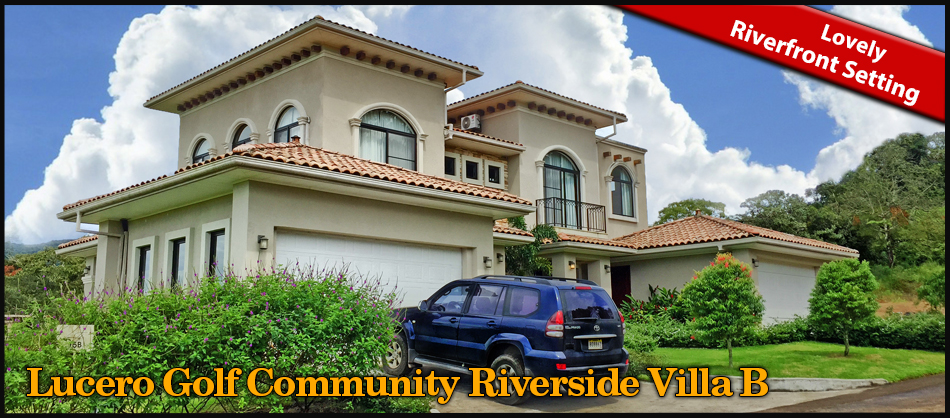 Lucero Boquete Golf Community Riverside Villa B for Sale – Furnished – 3 bedrooms
Lucero Boquete Golf Riverside Community Villa En Venta



Fabulous Lucero Luxury Fairway Duplex Villa – On One Ground Floor Level
Each with Two Master Bedroom Suites – Ready to Occupy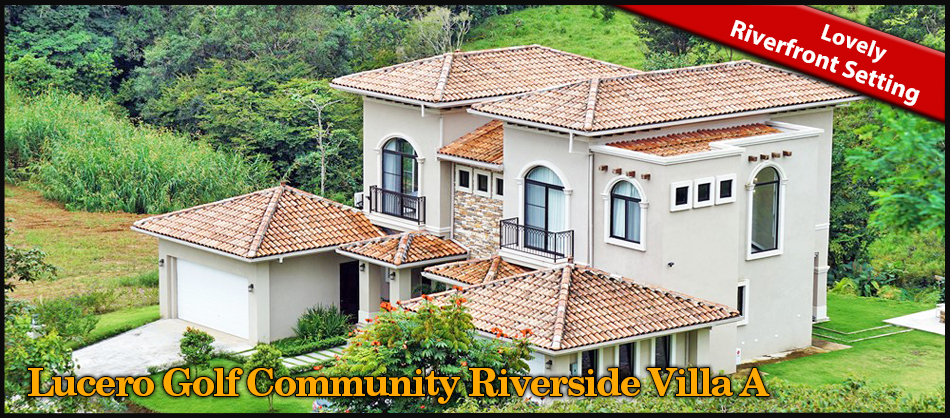 Lucero Boquete Golf Community Riverside Villas for Sale – Furnished with Loft – 3 bedrooms –
Lucero Boquete Golf Riverside Community Villas En Venta

This is the right time to buy at Lucero.  Lucero is on the move.  With the new paved road right to the development new houses are starting construction and the development is shining.  In addition, innovative tree houses were recently completed providing an incredible guest experience for those who wish to experience the development first hand and from high off the ground.  The new world-class club house was recently completed and further improvements keep coming. Ask about what's new.
The recently completed Riverside Duplex is an open-concept, Tuscan inspired townhouse offering views of the Agua Blanca River. The river is close enough to hear the soothing sounds from the duplex.  The windows are floor to ceiling. The floor imported porcelain.  The kitchen cabinets are quality Italian imports.  Countertops are granite with granite backsplashes in the kitchen.  The unit comes with a two-car garage too.
Until now, if you wanted to live in Lucero, you needed to buy a lot and build or purchase one of the high-end luxury houses with corresponding price points. Now you can live in Lucero or have a second home there without big ticket house construction.
Upgrade options available. In addition to the completed units, Lucero can build a wide variety of homes to your personal tastes.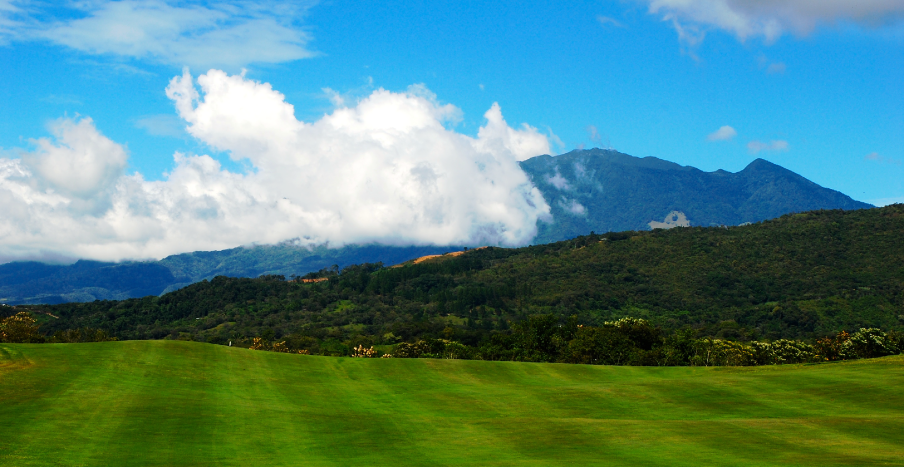 From Lucero Homes:
Live in an exclusive, master-planned golf course community.
Radiant sunsets.  Wild orchids. Tropical birds.  Mountain Views. Sparkling Pacific waters in the distance. Imagine bearing witness to these from your own home each day. Encompassing 700 acres, the Lucero Homes community has been designed to afford residents these rare opportunities.
The gated community offers, Single Family Homes, Duplex villas, Condominiums, and Estate Home sites. For optimum privacy, each home is built on a generous-sized lot.
Residential densities are purposely kept low to preserve the natural setting. Those who call it home enjoy amazing views, the peace and tranquility of lush surrounding and park-like settings with meandering trails.
Residents also have the right to acquire a privileged membership at Lucero's world-class golf course and the only red-clay tennis courts in the region.
Recently completed are a clubhouse with swimming pool and restaurant.
More About the Community
Lucero Homes is an exclusive residential golf resort community located in the "La Estrella" suburb of Boquete (valley of the flowers) in the Province of Chiriqui, immediately next to Costa Rica's southern border near the charming town of Boquete in northwestern Panama.
Lucero is 15 to 20 minutes by car from Boquete and about 45 to 50 minutes by car from David, the capital of Panama's Chiriqui Province, The property is nestled amongst  the country's most mountainous region, situated approximately  3366 feet (1,010 meters) above sea level and has 360-degree views: to the north you see the Jaramillo Mountain; to the east is the continental divide; to the south is the Pacific Ocean, and to the west is the Volcan Baru, which is the highest point in Panama. The average temperature is 72 degrees Fahrenheit or 22 degrees Celsius.
Bordered by the Agua Blanca river on the west side, the community and area has numerous creaks running through it, and more than eleven fresh water springs that provide drinking water to the residences. In addition to human residents, the area is home to white-tailed deer, Capuchin monkeys, Pacas, Coati, Jaguarmundi, and a variety of birds and butterflies.
The district of Boquete has approximately 20,000 inhabitants. More than 14% of the population is of foreign origin. David has an international airport with flights several times a week to San Jose, Costa Rica.  Air Panama offers three 45-minute flights a day to David from Panama City. COPA (the international airline of Panama) flies daily from Canada and the United States to Panama City.
In addition, both David and Boquete are accessible by car from Panama City (340 miles) or from Costa Rica.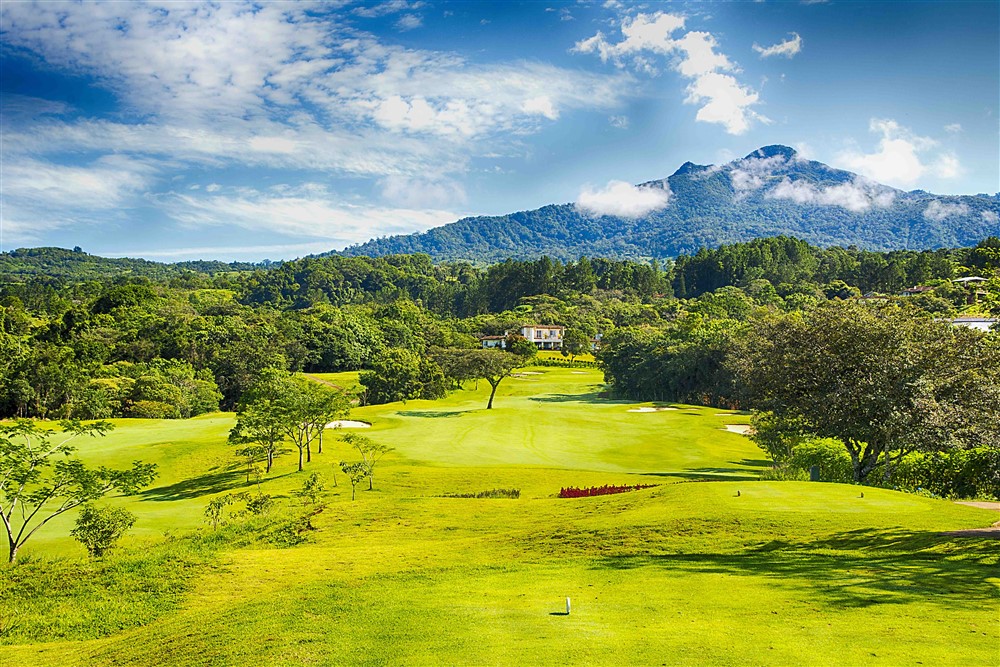 Please ask about the many building lots and already built existing houses for sale too.  Please contact Casa Solution today to view the villas, lots, condominium options, and houses for sale in Lucero, Boquete, Panama or for more information.