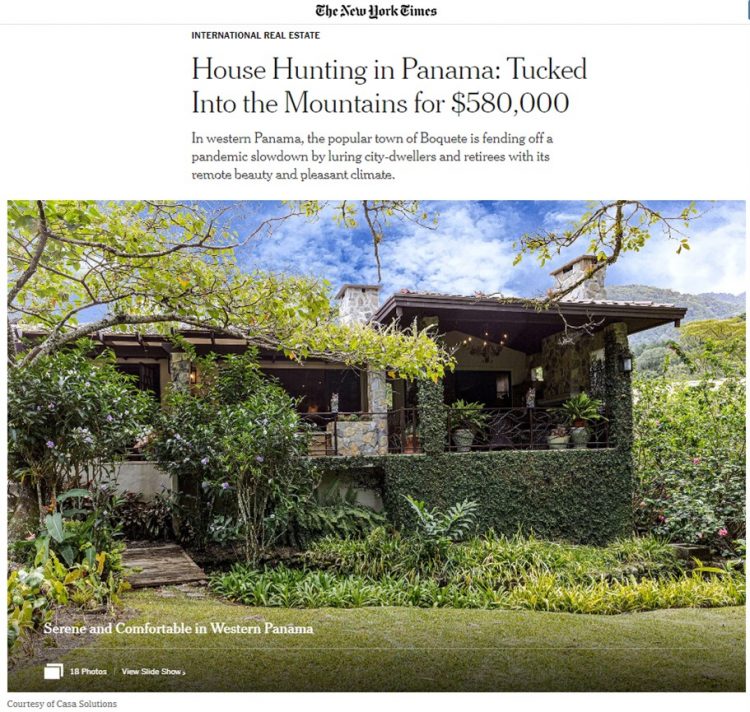 "House Hunting in Panama: Tucked Into the Mountains for $580,000"
In western Panama, the popular town of Boquete is fending off a pandemic slowdown by luring city-dwellers and retirees with its remote beauty and pleasant climate.
November 4, 2020, by Marcelle Sussman Fischler
Casa Solution was once again interviewed by the New York Times regarding real estate in Panama.
We are grateful to the outstanding writer, Marcelle Sussman Fischler, and are proud that this great listing and Casa Solution have been chosen to be featured in the article.
You can own this wonderful house.  Please contact Casa Solution to view it, for more information or to submit an offer.
Excerpts:
"This three-bedroom house is a short walk from downtown Boquete, a mountain town in the fertile highlands of Panama's western Chiriquí province, known for its remote location, pleasant climate and popularity with expatriates.
The single-story house, which was remodeled and expanded to 2,450 square feet in 2017, is in Panamonte Estates, a 13-year-old gated community with 23 architecturally distinct homes. The community's land was purchased from the owners of the neighboring Panamonte Inn & Spa, a local landmark whose 1914 opening coincided with that of the Panama Canal, said Lauretta Bonfiglio, an agent with Casa Solution, which has the listing. Though not huge, "every house is individual," Ms. Bonfiglio said. "Even gated communities are not mass look-alike developments. That is what makes Boquete a unique community.
Wrought-iron gates open to a stone walkway traversing the lawn and a wood bridge with a decorative railing. Across a creek, the path resumes, leading to a glass-topped pergola at the front entrance. A second gate slightly farther down the road opens to a large carport.
The entrance hall, with wood-beam accents, leads to a great room with living and dining areas. The room has stone walls, a vaulted ceiling, and a floor-to-ceiling, double-sided stone fireplace. Porcelain tiles resembling wood cover the floors throughout. "
Massive glass doors slide open from both the living area and adjacent library/study to a covered terrace with an outdoor living room, a stone fireplace and custom iron railing. Warmed by the other side of the fireplace, the library/study could double as a third bedroom.
Across the entry hall, the kitchen is distinguished from a sitting area by a long wood table with drawers and shelves tucked underneath that serves as a movable center island. A stainless-steel sink is set in a white-tile countertop, with matching subway tiles forming a backsplash. A walk-in pantry is in the sitting area.
The main bedroom has a wall of closets and windows on two walls. A pocket door opens to an en suite bath with beige porcelain tile, a marble-topped wood vanity and a decorative mirror. The shower has a bench beneath a clerestory window.
Beyond the main bedroom, a hallway lined with louvered doors hides a washer and dryer on one side and a linen closet and storage compartment on the other. A second doorway reveals a full bath with a tub in a stone surround. The adjoining second bedroom is used as a study.
The house is tucked into one end of its 0.39-acre lot, adjoining a large side garden with bougainvillea, bamboo, ferns and citrus trees. Several wood bridges span the brook that crisscrosses the property.
The town of Boquete, near Panama's western border with Costa Rica, sits about 3,900 feet above sea level and attracts locals and foreigners alike with its natural beauty and vibrant cultural scene. This property is a five-minute walk to several Boquete restaurants, and not much farther from the pharmacies, grocery stores and churches that dot its downtown strip. Enrique Malek International Airport, in the Chiriquí capital city of David, is about an hour away. The flight to Boquete from Panama-Tocumen International Airport in Panama City takes just over an hour.
Market Overview
Thanks to its agreeable climate, affordable housing and health care, and use of the U.S. dollar, Panama has emerged as a favorite destination for foreign buyers, particularly American retirees. Those buyers have gradually pushed up prices over the past five years.
When Panama instituted its lockdown on March 20, Jason Cohen, an owner with his wife, Stephanie, of Casa Solution Real Estate, got nervous. "In the beginning, we lost a few deals because of what was going on," Mr. Cohen said. "I expected things to get much slower." But sales volume in Boquete remains similar to 2019 levels, he said, and while there are some "buying opportunities," prices haven't slipped. Properties "started selling virtually and we started selling more luxury properties," Mr. Cohen said.
Before the pandemic, most of their sales were in the $200,000 to $400,000 range, with luxury homes from $500,000 to $900,000 selling "once in a while." "This year, it's more $500s, $600s and $900s," he said, with some buyers going into contract sight unseen. "I have been pleased with the shift to the higher end."
"Before, people couldn't find what they wanted and had to build," Mr. Cohen said. Finished houses are now often available for less than what it costs to build a similar house.
"We are getting a wave of Panamanians wanting to move to Boquete and get away from the city," said Eugenio Horna, the general manager of Casa Solution.  About 30 percent of his firm's buyers are Panamanian, up from about 10 percent five years ago.
Foreigners living in Panama City, about 300 miles east, also are relocating to Boquete. At the high end, Mr. Cohen said, buyers "are mostly all foreigners."
Though many Panamanian coffee farms have been sold and divided into lots, more houses and less land are being purchased. "Before, people couldn't find what they wanted and had to build," Mr. Cohen said. Finished houses are now often available for less than what it costs to build a similar house.
Who Buys in Boquete
Since its founding in 1911 as a small agricultural community, Boquete has been "very multinational," Ms. Bonfiglio said. 
Buying Basics
Foreigners pay cash or use owner financing, Mr. Cohen said.
A visa program established on Oct. 15 allows foreigners who invest at least $500,000 in real estate to obtain permanent residency. To retain the resident status, the investment must be kept for at least five years.
Link to the November 2020 New York Times full article on House Hunting in Panama 
Casa Solution was also featured in these two prior New York Times articles:
House Hunting in …. Panama – 2018
House Hunting in … Panama – 2015
More about the great Panamonte Estates listing featured in the article.
Thanks to Fran Hogan for the great photos.