Montana Verde Residential Development – 28 Outstanding View Lots – Lots Available for Sale in Boquete – 7 Lots Just Sold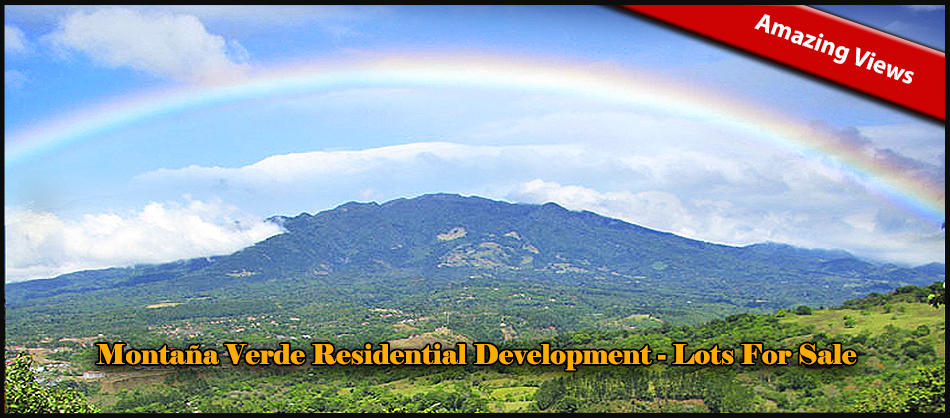 7 More Lots Just Sold in 2018!  Generous home sites of up to 2+ acres. Intense Volcan Baru views. Full-year streams. Beautiful homes. Off-the beaten path yet close to town. Underground utilities. Gentle climate. Rainbows and Bird Sitings. This is Montana Verde residential development. Large lots from $99,500.
A freshly paved road now leads to about 100 meters from this fine community.
As you ride up the road from David to Boquete, and you are about to enter the charming, high altitude, Boquete downtown, one can't help but wonder about the large group of homes up on the right with incredible views on the hillsides. In Jaramillo 10 minutes to downtown, and surrounded by large luxury homes, Montana Verde is one of the best choices for those who desire larger than usual home sites (3/4 acre to 1.5 acres or two sites combined for 3 acres or more) with mountain streams and completed infrastructure close to downtown in the hills above Boquete.
The project has 28 Lots, all with spectacular views, and ready to build.
• Green Areas with Gazebo
• Underground Utilities
• Small creeks around the project
• Road with lights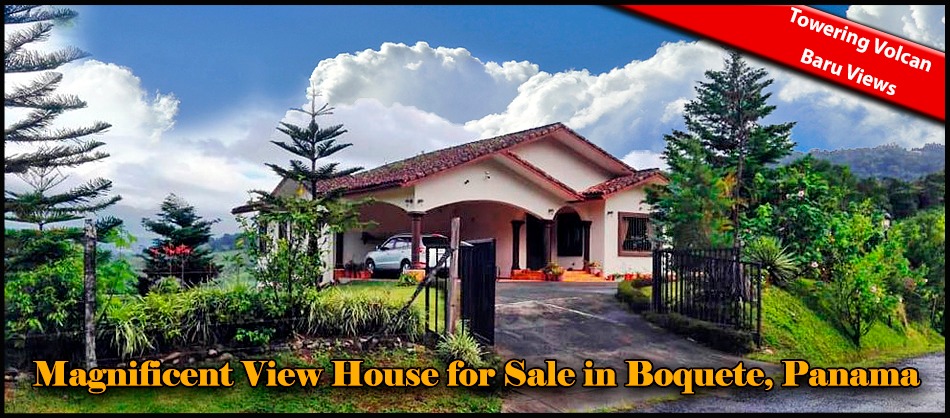 This magnificent house is now for sale in this community.
As an example, here's one of the fantastic view lots available at Montana Verde, Boquete:
Montana Verde House Lot with Super Views in Boquete, Panama – Nearly 2 Acres
New Prices – Best Value in Boquete…
| | | |
| --- | --- | --- |
| Lot Number | Size | Price |
| Lot #1 | SOLD – 3629 Sqmt. / 0.89 Acres | – |
| Lot #1A | 5370 Sqmt. / 1.33 Acres – Outside of and Adjacent to Community | $75,000 |
| Lots #2 and #3 | SOLD – 3854 Sqmt. / 0.95 Acres – SOLD | – |
| Lot #4 | 7961 Sqmt. / 1.97 Acres | $165,000 |
| Lot #5 | 4341 Sqmt. / 1.07 Acres | $114,000 |
| Lot #6 |  SOLD | – |
| Lot #7 | SOLD | – |
| Lot #8 | 5960 Sqmt. / 1.47 Acres | $140,000 |
| Lot #9 | 8311 Sqmt. / 2.05 Acres | $169,500 |
| Lot #10 | SOLD – 4518 Sqmt. / 1.12 Acres | – |
| Lot #11 | 4869 Sqmt. / 1.20 Acres | $136,000 |
| Lot #12 | 6097 Sqmt. / 1.51 Acres | $149,500 |
| Lot #13 | 7387 Sqmt. / 1.82 Acres | $159,000 |
| Lot #14 | 6215 Sqmt. / 1.54 Acres | $121,500 |
| Lot #15 | 4361 Sqmt. / 1.08 Acres | $99,500 |
| Lot #16 | SOLD – 9044 Sqmt. / 2.23 Acres | – |
| Lot #17 | SOLD | |
| Lot #18 | SOLD | |
| Lot #19 | SOLD | |
| Lot #20 | SOLD | |
| Lot #21 | SOLD | – |
| Lot #22 | SOLD | – |
| Lot #23 | SOLD | – |
| Lots #24 & 25 | BOTH SOLD | – |
| Lot #26 | MAGNIFICENT HOUSE FOR SALE | Click for Current Price |
| Lot #27 | 4652 Sqmt. / 1.15 Acres | $131,000 |
| Lot #28 | SOLD – 4124 Sqmt. / 1.02 Acres | – |
| | | |