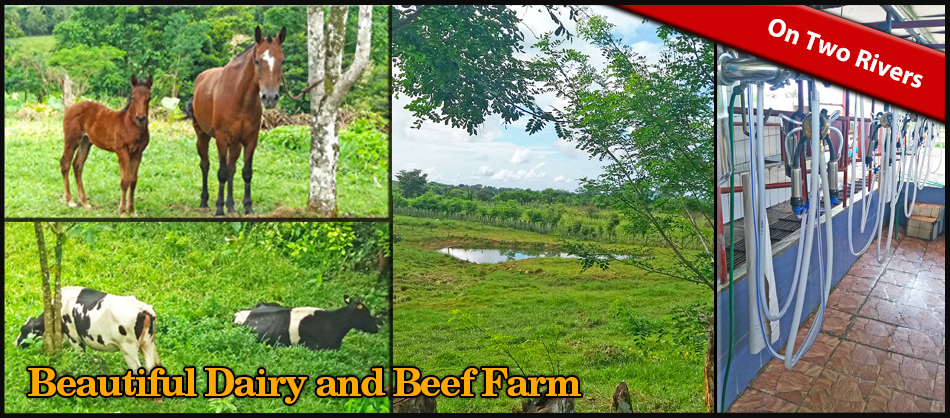 Beautiful Dairy and Beef Farm on Two Rivers with Five Springs, Two Houses, Lots of Facilities, Two Vehicles & More – Owner Financing Now Available – Hermosa Granja Lechera y de Carne en Dos Ríos con Dos Casas, Muchas Instalaciones, Dos Vehículos y Más – Financiamiento con el Propietario disponible
Price Furnished
: $1,999,000
House Size
: 3,000.00 Sq.Ft
278.71 Sq.M
Lot Size
: 620,000 Sq.M
153.21 Acres
Location
: San Vicente, Volcan, Panama
A great description from the owner:
This is truly beautiful farm land with cool weather living.
We started with a bucket, milking stool and ten cows and a can.  Now the farm is made up of three separate farms totaling 35 hectares – one of the farms on long term rental.
The property has 3 corrals and head shoots.  We grow our own tall grass, sugar cane and corn for silage.   All of the property is newly fenced and cross fenced. Every separate parcel is bordered by a river.
There are two large rivers and 5 springs. The property is green year round with plenty of pasture, water and rain.  The farm currently has about 150 head of cattle;  60 dairy – 50 red angus – 40 calves. The farm is being sold turnkey.  It is returning $130,000 a year but has the potential of easily 180,000  with adding more milking cows.  I add about 5 a month. We are milking 45 now with 15 in the "bull pen" and can easily handle 75 or more milking with the brand new 10 stall milking station and refrigerated holding tank.  We have refrigerated hanging for the processing of our beef cows and are sold as tender steaks.
The farm is also being sold with the following:
New  gringo house. 1,600 sq. feet. 2 large bedrooms – 2 baths – utility room – large great room. The kitchen has all new appliances, lots of cabinets. It comes fully furnished with 60 inch TV, Direct TV satellite from the states so you never miss any football, news, or NCIS.  BBQ grill.  The porch in the back over looks the larger river.  There are plenty of fish and fresh water shrimp.  The furniture new was about 60,000.  Internet satellite.  Air conditioned – but never used.
At the dairy there is another 1,400 sq. foot gringo house.  The front porch view goes from Los Olas to Costa Rico. You can watch the ships come in.  All furnished.
Toyota Hilux – 2013 – 4 door – 103,000 KM. Well maintained from new. 4-WD
Toyota Four runner 2010 – 120,000 KM – 4-WD
Toyota Hilux – 2017 – new – One month old – 1,000 KM with new work bed and cattle hauler.
Duel axle trailer for hauling cattle and milk tank.
2 – 4 wheelers and one mule for easy work and hauling. Few hours.
A 2 car garage full of tools. New $3,000 head shoot to be installed.
A 16' x 16' tool shed fully loaded – thousands of hand tools – skill saws, saw alls, grinders, battery charges, welders, scales, storage and racks for easy maintenance, all tools major brands – no Chinese – 3 weed eaters – 2 gas sprayers – 5 hand sprayers, large generator, 2-power washers, paint and tools, gas tanks, much more.
4 large freezes for beef – 5 large refrigerators.
Self contained water system.  A reservoir has been made to house water at a very large spring.  There is 1,000 gal capacity there and it pumps to a 1,000 gal. take on top of the high spot on the farm and gravity feeds a 500 gal tank at the dairy. We can pump 25 gal a minute.
Special container for malaza storage holding 500 gal.
Mobil gas multi-purpose silage machine.
The dairy is equipped with all new equipment and is about 4 months old – all carrying warranties.
There are also three employees who would like to continue working on the property.
Listed under Volcan due to proximity.
There is really too much on this property to mention but I have tried to cover some of it.  Come see paradise.
Ask about owner financing now available.
Note: Above statistics at time of original posting.
Interested in just a part of this property?  It is now available in several sizes and options:
Panama Farm House and Property for Sale with a River, Springs, Equipment and More
93 Acre Farm Propery for Sale in Panama
Dairy Farm for Sale with the Second House, Equipment and River
Over 17 Acres of Panama Farm Land for Sale
***********************
Hermosa Granja Lechera y de Carne en Dos Ríos con Dos Casas, Muchas Instalaciones, Dos Vehículos y Más – Financiamiento con el Propietario disponible
Una gran descripción del propietario:
Esta es realmente una hermosa tierra de cultivo con una vida fresca.
Comenzamos con un cubo, un taburete de ordeño y diez vacas y una lata. Ahora la granja se compone de tres granjas separadas que suman 35 hectáreas, una de las granjas en alquiler a largo plazo.
La propiedad tiene 3 corrales y mataderos. Cultivamos nuestra propia hierba alta, caña de azúcar y maíz para ensilaje. Toda la propiedad está vallada y cercada. Cada paquete separado está bordeado por un río.
Hay dos ríos grandes y 5 manantiales. La propiedad es verde durante todo el año con mucho pasto, agua y lluvia. La granja actualmente tiene alrededor de 150 cabezas de ganado; 60 lácteos – 50 angus rojos – 40 terneros. La granja se vende llave en mano. Está devolviendo $ 130,000 por año pero tiene el potencial de fácilmente 180,000 con la adición de más vacas lecheras. Agrego alrededor de 5 por mes. Estamos ordeñando ahora 45 con 15 en el "corralillo" y podemos manejar fácilmente 75 o más ordeños con la nueva estación de ordeño de 10 puestos y el tanque de retención refrigerado. Tenemos colgantes refrigerados para el procesamiento de nuestras vacas de carne y se venden como carnes tiernas.
La granja también se vende con lo siguiente:
Nueva casa gringa de un año. 1,600 pies cuadrados. 2 dormitorios grandes – 2 baños – lavadero – gran sala grande. La cocina tiene todos los electrodomésticos nuevos, muchos gabinetes. Viene completamente amueblado con TV de 60 pulgadas, satélite Direct TV de los estados para que nunca te pierdas ningún fútbol, ​​noticias o NCIS. Parrilla de barbacoa. El porche en la parte de atrás parece el río más grande. Hay muchos peces y camarones de agua dulce. El mobiliario nuevo era de aproximadamente 60,000. Internet satelital Aire acondicionado, pero nunca utilizado.
En la lechería hay otra casa gringa de 1,400 pies cuadrados. La vista del porche frontal va de Los Olas a Costa Rica. Puedes ver los barcos entrar. Todo amueblado.
Toyota Hilux – 2013 – 4 puertas – 103,000 KM. Bien mantenido desde nuevo. 4-WD
Toyota Four runner 2010 – 120,000 KM – 4-WD
Toyota Hilux – 2017 – nuevo – Un mes de antigüedad – 1,000 KM con una nueva cama de trabajo y un transportador de ganado.
Remolque de doble eje para el transporte de ganado y tanque de leche.
2 – 4 ruedas y una mula para facilitar el trabajo y el transporte. Pocas horas.
Un garaje para 2 autos lleno de herramientas. Nueva sesión de lanzamiento de $ 3,000 para ser instalada.
cobertizo de herramientas 16 'x 16'  completamente cargado – miles de herramientas de mano – sierras de habilidad, sierra, molinillos, cargas de batería, soldadores, balanzas, almacenamiento y bastidores para facilitar el mantenimiento, todas las herramientas son de marcas reconocidas – no chino – 3 comedores de hierba – 2 pulverizadores de gas – 5 pulverizadores de mano, generador grande, arandelas de 2 motores, pintura y herramientas, tanques de gas, y mucho más.
4 congeladores grandes para carne de res – 5 refrigeradores grandes.
Sistema de agua autónomo. Se ha hecho un depósito para almacenar agua en un manantial muy grande. Allí hay una capacidad de 1,000 galones y bombea a 1,000 galones. toma la parte alta de la granja y la gravedad alimenta un tanque de 500 galones en la lechería. Podemos bombear 25 galones por minuto.
Contenedor especial para almacenaje de malaza con capacidad para 500 gal
Máquina de ensilaje multiusos de gas Mobil.
La lechería está equipada con todo el equipo nuevo y tiene aproximadamente 4 meses de antigüedad, todas con garantías.
También hay tres empleados a los que les gustaría seguir trabajando en la propiedad.
Listado bajo Volcán debido a la proximidad.
Realmente hay demasiado en esta propiedad que mencionar, pero he intentado cubrir parte de ella. Ven a ver el paraíso
Pregunte sobre el financiamiento del propietario ahora disponible.
¿Interesado solo en una parte de esta propiedad? Ahora está disponible en varios tamaños y opciones:
Casa de granja panameña y propiedad en venta con un río, manantiales, equipos y más
Panama Farm House and Property for Sale with a River, Springs, Equipment and More
Propiedad de 93 acres en venta en Panamá
93 Acre Farm Propery for Sale in Panama
Granja lechera en venta con la segunda casa, equipo y río
Dairy Farm for Sale with the Second House, Equipment and River
Más de 17 acres de tierras agrícolas de Panamá en venta