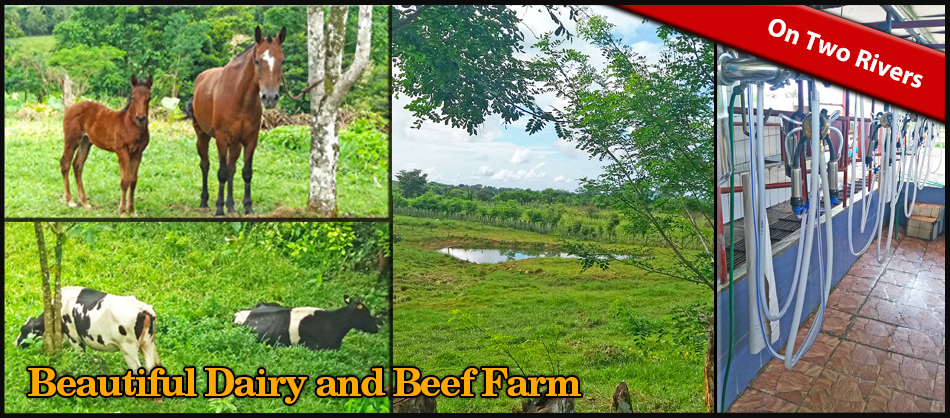 Price Reduction! 25.75 Hectare Farm for Sale with 2 Houses and a Dairy Operation, Bordered by Two Rivers, Excellent income opportunity
Price Furnished
: $619,000
House Size
: 3,000.00 Sq.Ft
278.71 Sq.M
Lot Size
: 257,500 Sq.M
63.63 Acres
Location
: San Vicente, Volcan, Panama
This farm is being sold with the following:
1600 ft2 home built to North American standards, nicely appointed and furnished.  The home is  2bd/2ba with beautiful views, which also overlooks a river.
Large garage/storage area.
 Small bonus storage area for tools/equipment.
Farm has 1,850 average feet of elevation = cooler temperatures.
Full Dairy setup with mechanical 10-stall milking station, coral, shaded feeding area, refrigerated milk tanks, and enclosed milk/feed storage barn.  When the owner was operating the dairy, they would net $4,000/month with 30 cows.
1bd/1ba, 1400 ft2 house next to the dairy barn  Front porch horizon views from Las Olas beach area to the Costa Rican border.
Tools meant for the dairy operation and houses included.  The dairy is equipped with everything you need to begin your milking operation. Seller will provide contacts for purchasing feed, cows, and companies that will buy your milk.
Seller also had a beef operation on this property in the past that would net $10,000/month.
Seller is willing to teach both the dairy and beef operations to new owners if needed.
Easy Access.
Listed under Volcan due to proximity. Also close to David and less than an hour to Boquete.
Ask about possible owner financing.
This Farm is perfect for raising beef and dairy cattle, or for a whole variety of other uses.   Please contact Casa Solution for more information or for a visit.
Interested in just a part of this property?  It is now available in several sizes and options:
Panama Farm House and Property for Sale with a River, Springs, Equipment and More
Dairy Farm for Sale with the Second House, Equipment and River