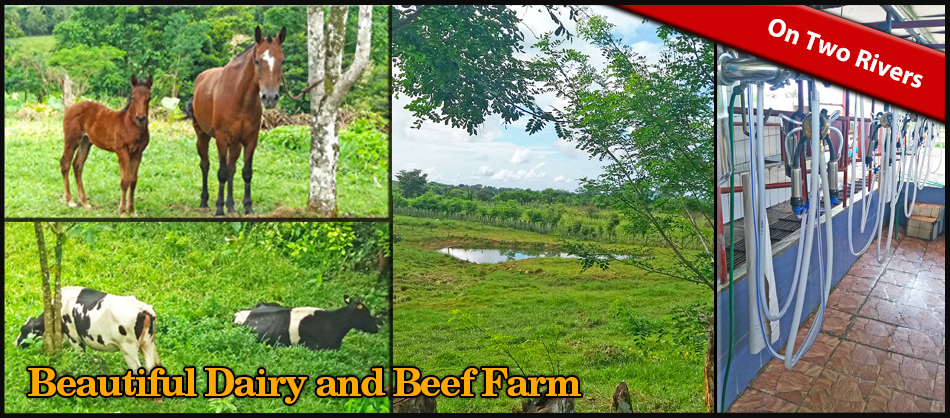 Beautiful Dairy and Beef Farm on Two Rivers with Five Springs, Two Houses, Lots of Facilities, Two Vehicles & More
Price Furnished
: $1,499,000
House Size
: 3,000.00 Sq.Ft
278.71 Sq.M
Lot Size
: 350,000 Sq.M
86.49 Acres
Location
: San Vicente, Volcan, Panama
A great description from the owner:
This is truly beautiful farm land with cool weather living.
We started with a bucket, milking stool and ten cows and a can.  Now the farm is made up of three separate farms totaling 35 hectares – one of the farms on long term rental.
The property has 3 corrals and head shoots.  We grow our own tall grass, sugar cane and corn for silage.   All of the property is newly fenced and cross fenced. Every separate parcel is bordered by a river.
There are two large rivers and 5 springs. The property is green year round with plenty of pasture, water and rain.  The farm currently has about 150 head of cattle;  60 dairy – 50 red angus – 40 calves. The farm is being sold turnkey.  It is returning $130,000 a year but has the potential of easily 180,000  with adding more milking cows.  I add about 5 a month. We are milking 45 now with 15 in the "bull pen" and can easily handle 75 or more milking with the brand new 10 stall milking station and refrigerated holding tank.  We have refrigerated hanging for the processing of our beef cows and are sold as tender steaks.
The farm is also being sold with the following:
New one year old gringo house. 1,600 sq. feet. 2 large bedrooms – 2 baths – utility room – large great room. The kitchen has all new appliances, lots of cabinets. It comes fully furnished with 60 inch TV, Direct TV satellite from the states so you never miss any football, news, or NCIS.  BBQ grill.  The porch in the back over looks the larger river.  There are plenty of fish and fresh water shrimp.  The furniture new was about 60,000.  Internet satellite.  Air conditioned – but never used.
At the dairy there is another 1,400 sq. foot gringo house.  The front porch view goes from Los Olas to Costa Rico. You can watch the ships come in.  All furnished.
Toyota Hilux – 2013 – 4 door – 103,000 KM. Well maintained from new. 4-WD
Toyota Four runner 2010 – 120,000 KM – 4-WD
Toyota Hilux – 2017 – new – One month old – 1,000 KM with new work bed and cattle hauler.
Duel axle trailer for hauling cattle and milk tank.
2 – 4 wheelers and one mule for easy work and hauling. Few hours.
A 2 car garage full of tools. New $3,000 head shoot to be installed.
A 16' x 16' tool shed fully loaded – thousands of hand tools – skill saws, saw alls, grinders, battery charges, welders, scales, storage and racks for easy maintenance, all tools major brands – no Chinese – 3 weed eaters – 2 gas sprayers – 5 hand sprayers, large generator, 2-power washers, paint and tools, gas tanks, much more.
4 large freezes for beef – 5 large refrigerators.
Self contained water system.  A reservoir has been made to house water at a very large spring.  There is 1,000 gal capacity there and it pumps to a 1,000 gal. take on top of the high spot on the farm and gravity feeds a 500 gal tank at the dairy. We can pump 25 gal a minute.
Special container for malaza storage holding 500 gal.
Mobil gas multi-purpose silage machine.
The dairy is equipped with all new equipment and is about 4 months old – all carrying warranties.
There are also three employees who would like to continue working on the property.
Listed under Volcan due to proximity.
There is really too much on this property to mention but I have tried to cover some of it.  Come see paradise.