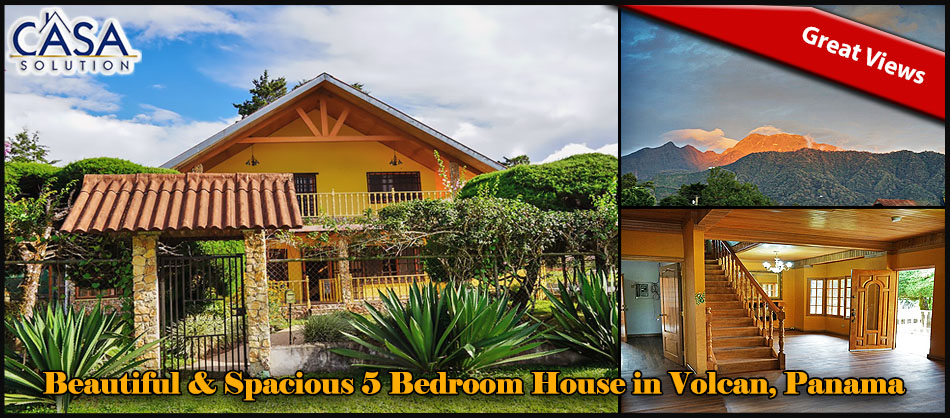 Beautiful & Spacious 5 Bedroom House for Sale in Volcan, Panama
House Size
: 6,640.00 Sq.Ft
616.88 Sq.M
Lot Size
: 1,250 Sq.M
0.31 Acres
Location
: Volcan, Volcan, Panama
Enjoy your Panama mountain lifestyle in this large and quite beautiful five bedroom Volcan, Panama house for sale.
The spacious house is ideal for a large family, for your many visitors or if you would enjoy lots of rooms for your hobbies, crafts, exercise, or other endeavors.
The high quality woodwork that extends throughout the home from the wooden ceilings to the flooring, the doors and window frames plus the cabinetry brings a crafted groundedness that makes the home unique and special.
A wonderful sun room with large windows brings the outside in making this home a great integration of quality indoor living with natural access to the great outdoors.
Also, the layout provides an wide open floor plan with integrated living, dining and kitchen areas for ease of movement.
The house is located on a well-paved road.
The residence has a lovely fenced yard and is very close to all the amenities of downtown Volcan, one of Panama's most premier mountain communities.
Volcan is considered a vacation destination  that enjoys spring-like weather all year round.
The house's huge terrace has a large fireplace making for a wonderful outdoor spot to enjoy cool evenings or just to set the mood.  Some of the terrace is covered and some open for enjoying the sun.
Upstairs, the bedrooms provide versatile living options and a loft adds some lift to the space.
Even more so does the upstairs balcony which provides super views of the surrounding mountainsides.
Ironwork provides secure peace of mind if desired.
The tax exemption good to June 9, 2029 is transferable to you as the new owner.
Appliances are included.
This home has so much going for it and at a super price!
Please contact Casa Solution if you would like to view this property or have questions about this Spacious & Beautiful 5 Bedroom House for Sale in Volcan, Panama.