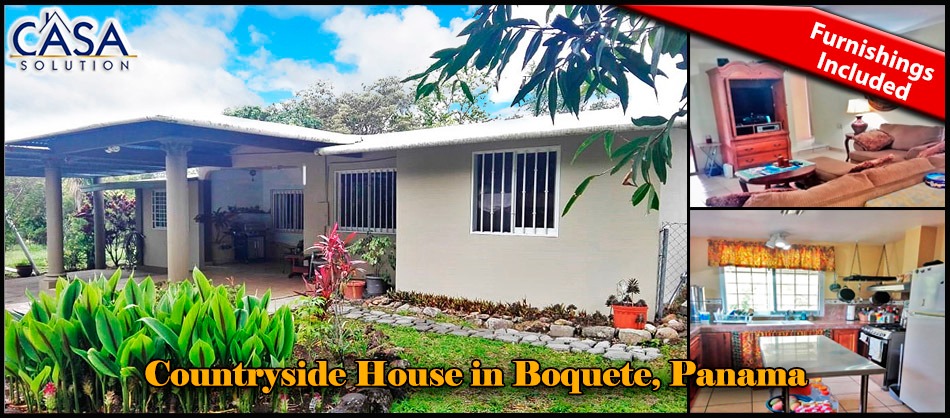 Countryside House for Sale in Boquete, Panama Only 12 Minutes to Downtown – Furnishings Included
House Size
: 1,100.00 Sq.Ft
102.19 Sq.M
Lot Size
: 1,174 Sq.M
0.29 Acres
Location
: Alto Boquete, Boquete, Panama
This is a great countryside house with lots of wonderful attributes.
With three bedrooms, a great floor plan, lovely yard, high quality interior finishes and furnishings included, the property offers a whole lot of value and enjoyment.
Much has been thought of to make this house a pleasure.  The layout has the living room in the center of the home giving each of the bedrooms easy access to it.
The interiors are particularly nice with features like quality floor and wall tiles, pretty ceiling fans with light fixtures, lovely glass and designer bowl sinks in the bathrooms, and an enjoyable sun room.  The sun room is a great space from which to enjoy your own tropical gardens.
The master bedroom suite is large.  It also has a view of Volcan Baru, Panama's tallest and most majestic mountain.
The nice appliances are included.  As are the furnishings.  This offering makes moving to Boquete a simple experience.
Peace of mind features include ironwork on all the windows for added security as well as a backup water tank.
The yard is already fenced.  The existing carport accommodates two vehicles.
The property borders a seasonal stream that brings pleasant sounds to the property.
Being close to downtown Boquete (only about 12 minutes away) as well as the easy access to the main road to David, Panama's third largest city has its advantages.  This house for sale is only about 12 minutes to downtown Boquete and about 20 minutes to all the nice amenities of David.
The closest beach resort, Las Olas, is only about 45 minutes from here and other Pacific mainland beaches like at Las Lajas or Island beaches like those in the Boca Chica area are also nearby.
This is a great property for the price.  It offers the opportunity to easily step into the Boquete lifestyle.
Please contact Casa Solution today for more information or to visit this Countryside House for Sale in Boquete, Panama.