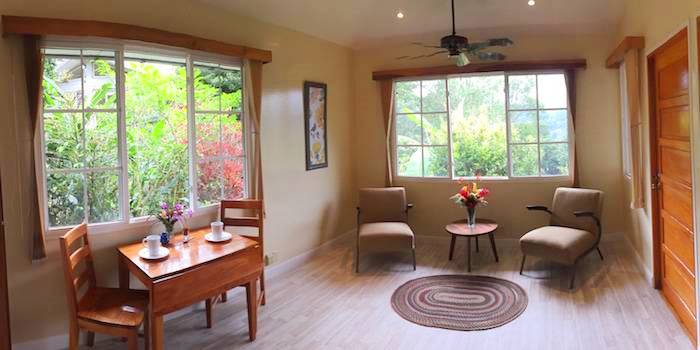 Deluxe Single Bedroom Bungalow – Vacation Rental
Location
: Jaramillo, Boquete, Panama
Large and modern rooms with incredible views in a lush setting make this a wonderful choice for your Boquete vacation.
Deluxe One Bedroom Bungalow
Includes one large bedroom with its own en suite bath and King size bed. A large separate sitting area and spacious deck offer ample space to enjoy.
Also included in the rate:
Mini Fridge
Microwave
In room coffee bar
Satellite TV
Wifi
Heated Floor
The Coffee Estate Inn
The Coffee Estate Inn is Boquete's original mountainside inn featuring personalized attention, privacy and deluxe accommodations with delicious food and coffee.
Our six acre (2 1/2 hectare) private estate allows ample privacy for all of our guests during their stay, and our attentive staff are sure to make it an escape to remember.  All of our bungalows have magnificent views of the towering Baru Volcano, surrounding mountains and the Boquete valley below.  Learn about coffee cultivation with us, participate in the roasting process and finally enjoy the flavor of our freshly roasted estate coffee.
Nature trails wind through our lush private estate, and numerous species of exotic flowers, birds and mammals are easily viewed from the spacious deck of your private bungalow.
Our goal today is the same as it has been since day one.  That is to provide our guests with an opportunity to experience the beauty of Panama that we have the great fortune of enjoying every day. At The Coffee Estate, we take great pride in our inn and great care of our guests.
Also available at The Coffee Estate Inn:
Please contact Casa Solution or the Coffee Estate Inn for current pricing based on season and current occupancy rates.  Price shown is an estimate and is a daily rate.