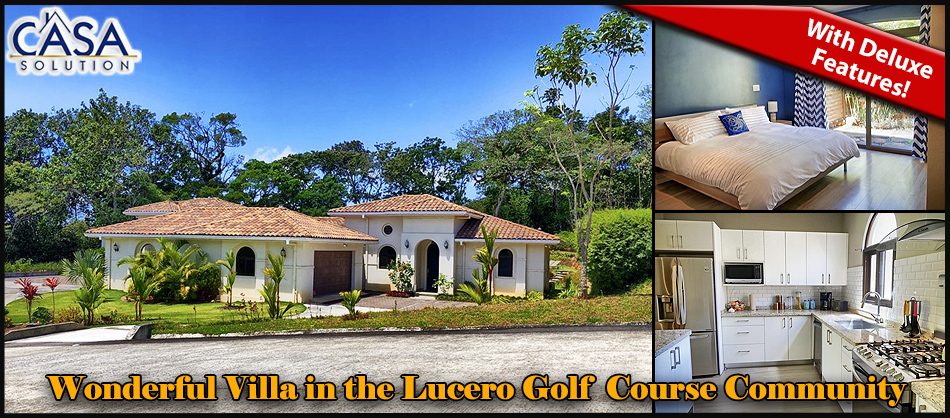 Wonderful Villa in the Lucero 18 Hole Championship Golf Course Community, Boquete, Panama – Furnishings Included! Maravillosa Villa en el Campo de Golf de 18 Hoyos de Lucero, Boquete, Panamá
Price Furnished
: $325,000
House Size
: 2,040.00 Sq.Ft
189.52 Sq.M
Lot Size
: 954 Sq.M
0.24 Acres
Location
: La Estrella, Jaramillo, Boquete, Panama
This wonderful villa in the premiere luxury community of Boquete, Panama, Lucero, is now available for sale from a private owner.
Note: Improvements have been made since the photos shown were taken.  New photos coming soon.
From the moment you approach this beautiful residence, you are greeted by quality in design, presentation and construction.  The home sits on a lovely and landscaped, privately titled 1/4 acre plus lot.
Inside, this Spanish Mediterranean-style villa offers a spacious, open plan living, dining and kitchen setup on one level.  The villa also boasts two large bedrooms, each with en-suite bathrooms.  The master bedroom has a large walk in closet. There is also a guest bathroom.
The interior is bright with lots of natural light enhancing windows augmented with thoughtful lighting choices.  The interior is tastefully decorated with modern finishes.
Large porcelain planks provide an upgraded flooring experience and look.  The open floor plan brings the entire space together.  And the large kitchen with all the trimmings is well-integrated into the space.
The kitchen has pretty and light shaded granite countertops, oversized kitchen sink and modern stainless appliances which are included.  The brick shaped white wall tile in the kitchen is in keeping with modern design and further lightens the space.  There is a convenient pantry adjacent to the kitchen for your tasty treats.
The large living room with high ceilings and recessed lighting is such a great space.  It opens easily out through the picture window glass doors to your private, covered veranda.
The home's large veranda is ideal for enjoying the year-round temperate weather.  The veranda looks out on your private grounds with a lovely yard framed by tropical trees with another area that could make a great little gazebo or sunbathing plateau.
There is also a small stream in the rear of the property that provides subtle relaxing sounds. The property is on the 1st hole of the championship golf course.
Back inside, the big bedrooms with quality finishes also open out through large sliding glass doors to your pretty yard.
The deluxe design features continue in the bathrooms.  Tasteful and modern, the long vanity's granite countertops open to two integrated deep bowl bathroom sinks are reflective of the great design choices.  The bathrooms each has standup showers and pretty floor and wall tile.  The shower has a rain water style shower head for your pleasure.  In the master there is a tub too for soaking.
The guest bathroom has an upgraded tall faucet, large bowl sink and a similar high-end vanity to the other bathrooms.
The home has a long walk-in closet for plenty of convenient storage.  And a big laundry room with even more cabinetry and its own double bowl sink too.
There is a two-car garage. So much space.
All of the beautiful furnishings and appliances are included with many turn-key items! Just easily step into your high quality life in Boquete, Panama.
The Lucero golf course pro shop, pool, clay tennis courts, restaurant and the 1st tee is only a five-minute walk away from one of the best locations in the development.
More about Lucero
Lucero is a wonderful, amenity-rich environment.  In addition to the 18 hole championship golf course, it has the new world-class club house with delightful restaurant.  You will also find there clay tennis courts, a pleasure for your game.  This fabulous community with many of the finest houses in Boquete and an astounding 18 hole championship golf course has become a favorite of the discerning Boquete resident.  The property is beautiful with a myriad of impressive new luxury homes. The golf course is clearly one of the best in the country and the clay tennis courts are unique to the area.  The developers have continued to make major investments into the community by completing the final stretch of a freshly paved road now leading all the way from downtown Boquete right up to Lucero's entrance.  It is now just about 15 minutes to downtown Boquete on paved roads.
Please contact Casa Solution if you would like to view this property or have questions about this Wonderful Villa in the Lucero 18 Hole Championship Golf Course Community, Boquete in Panama.
---
Fantástico trato! Maravillosa Villa en el Campo de Golf de 18 hoyos de Lucero, Boquete, Panamá
Esta maravillosa villa en la principal comunidad de lujo de Boquete, Panamá, Lucero, ahora está disponible para alquilar. Es una de las dos villas adyacentes muy similares actualmente a la venta del mismo propietario.
Desde el momento en que te acercas a esta hermosa residencia, eres recibido por la calidad en el diseño, la presentación y la construcción. La casa se encuentra en un hermoso y ajardinado, privado titulado 1/4 acre más lote.
En el interior, esta villa de estilo mediterráneo español ofrece una espaciosa y abierta sala de estar, comedor y cocina en un solo nivel. La villa también cuenta con dos amplios dormitorios, cada uno con baño en suite. El dormitorio principal tiene un amplio vestidor. También hay un baño de visitas.
El interior es brillante, con muchas ventanas que mejoran la luz natural y aumentada  con opciones de iluminación bien pensadas. El interior está decorado con buen gusto con acabados modernos.
Los tablones de porcelana grandes brindan una experiencia y apariencia de pisos mejorados. El plano de planta abierto reúne todo el espacio. Y la gran cocina con todos los adornos está bien integrada en el espacio.
La cocina cuenta con encimeras de granito bonitas y con sombra clara, fregadero grande y modernos electrodomésticos de acero inoxidable que están incluidos. El azulejo blanco en forma de ladrillo en la cocina está en consonancia con el diseño moderno y aligera aún más el espacio. Hay una cómoda despensa junto a la cocina para sus sabrosos manjares.
La gran sala de estar con techos altos y luces empotradas es un gran espacio. Se abre fácilmente a través de las puertas de vidrio de ventana panorámica a su terraza privada cubierta.
La gran terraza de la casa es ideal para disfrutar del clima templado durante todo el año. La terraza da a sus terrenos privados con un hermoso patio enmarcado por árboles tropicales con otra área que podría ser un pequeño cenador o una meseta para tomar el sol.
También hay una pequeña corriente en la parte trasera de la propiedad que proporciona sutiles sonidos relajantes. La propiedad está en el primer hoyo del campo de golf de campeonato.
De vuelta al interior, las grandes habitaciones con acabados de calidad también se abren a través de grandes puertas corredizas de vidrio a su hermoso patio.
Las características de diseño de lujo continúan en los baños. De buen gusto y moderno, las encimeras de granito del tocador largo abiertas a dos lavabos integrados de lavabo profundo reflejan las excelentes opciones de diseño. Los baños tienen duchas verticales y bonitos pisos y azulejos. La ducha tiene un cabezal de ducha estilo lluvia para su placer. En el maestro también hay una bañera para sumergirse.
El baño de visitas tiene un grifo alto actualizado, un lavabo grande y un tocador de alta gama similar a los otros baños.
La casa tiene un amplio armario con vestidor para un amplio almacenamiento conveniente. Y una gran sala de lavandería con más gabinetes y su propio lavabo doble.
Hay un garaje para dos autos. Con mucho espacio.
El desarrollador ha alquilado villas como esta por $ 500 por noche.
Todos los hermosos muebles son negociables y están disponibles también si está interesado. Simplemente ingrese a su vida de alta calidad en Boquete, Panamá.
La tienda profesional del campo de golf Lucero, la piscina, las canchas de tenis de arcilla, el restaurante y el primer tee están a solo cinco minutos a pie de una de las mejores ubicaciones del desarrollo.
Todo esto ahora está disponible a un precio muy bajo de este vendedor motivado.
Más acerca de Lucero
Lucero es un maravilloso entorno lleno de comodidades. Además del campo de golf de 18 hoyos, tiene la nueva casa club de clase mundial con un restaurante encantador. También encontrará allí canchas de tenis de arcilla, un placer para su juego. Esta fabulosa comunidad con muchas de las mejores casas de Boquete y un sorprendente campo de golf de 18 hoyos se ha convertido en el favorito de los residentes más exigentes de Boquete. La propiedad es hermosa con una miríada de impresionantes casas de lujo nuevas. El campo de golf es claramente uno de los mejores del país y las canchas de tenis de arcilla son exclusivas de la zona. Los desarrolladores continuaron haciendo grandes inversiones en la comunidad al completar el tramo final de una carretera recién pavimentada que ahora lleva desde el centro de Boquete hasta la entrada de Lucero. Ahora está a solo 15 minutos del centro de Boquete por caminos pavimentados.
Hasta ahora, si quería vivir en Lucero, necesitaba comprar mucho y construir o comprar una de las casas de lujo de alta gama con los puntos de precio correspondientes. Ahora puede vivir en Lucero o tener una segunda casa allí sin la construcción de una gran boletería.