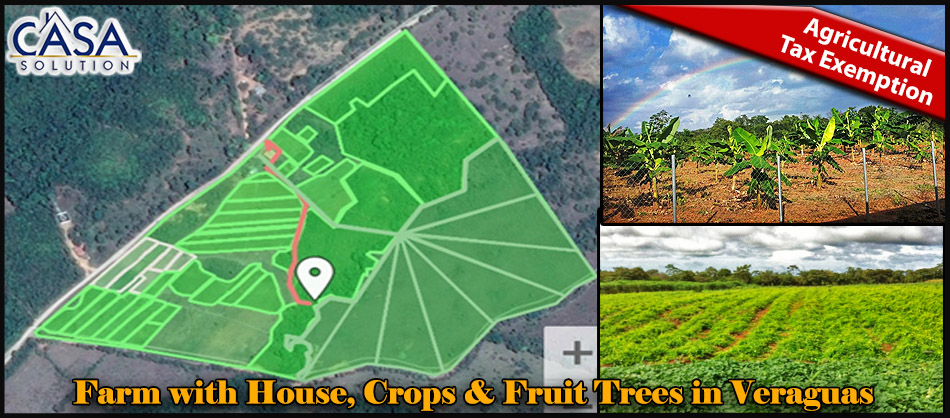 Price Reduction! Low Price! Farm with House, with the Potential of Productive Agriculture Plus a Stream for Sale in Veraguas, Panama with Agricultural Tax Exemption – Finca a la Venta de 23 Hectáreas con Agua Viva y una Casa con Título de Propiedad y Exoneración de Finca Agropecuaria
Lot Size
: 229,526 Sq.M
56.72 Acres
Location
: Las Guias Arriba de Calobre, All, Veraguas, Panama
This is an opportunity to own a genuine operating farm with a house on over 56 acres in Panama at an affordable price.
The farm is titled and has a tax exemption.
Area of agricultural production with drip irrigation: 7 hectares (divided into 11 lots with plots with an average of 2,000 m2 each).  This area includes more than 1,300 meters of pipeline for
conduction and distribution.
In the recent past, staggered crops produced at the farm were the following: sweet potato, cassava, otoe, diamond ñame, corn.
Basic planting of crop for soil protection: valerian/vetiver (Chrysopogon zizanioides).
The farm has the ideal climate conditions to produce high quality fruit crops (high sugar content) such as mangoe, papaya, pineapple (ananas), citrus and others like plantains, avocado, achiote (anatto, Bixa orellana, 50 plants in production) and moringa (Moringa oleifera). Besides, vegetable crops liking these conditions are watermelons, cantaloupes, cucumbers, tomatoes, and many more.
Ideal agricultural area for fattening cattle: 9 hectares (flat to slightly hilly) currently with faragua or jaragua grass.
Access to clean water. Ideal for intensive management of 10 to 15 head of cattle in semi-stable system.
This area is also suitable for solar energy projects, planting of fruit/forest trees or production of sugarcane.
Natural forest of water recharge and natural protection to water source: 4 hectares. It contains a great variety and quantity of native species such as laurel, macano, bitter cedar, guayacán, maría, matillo, jagua, chumico, guácimo, yellow and white hawthorn. Excellent conditions for growing bamboo-type guadua for rural buildings, teca and caoba.
Stream with flowing water all year round.
Soil analysis indicates pH of 5.7, organic matter 3 to 4%, texture sandy-loam to clay-loam.
Annual rainfall of 1,200 to 1,500 millimeters.
The farm has very good access all year round (1.5 kilometers of dirt road from the paved road that leads to Calobre) and is on the border of the Arco Seco, in the district of Calobre, Veraguas, Panama.
Altitude of 260 meters above sea level. Average temperatures are in the range of 22 to 37 degrees Celsius (71 to 98 F).
Santiago de Veraguas is 50 kilometers away and Aguadulce is 45 kilometers away. Both cities are host to modern living amenities such as health facilities, restaurants, supermarkets, shopping centers, movie theaters, gas stations, etc.
Perimeter fence of almost 1,900 meters with live poles of carate (Bursera simaruba) and other species such as poró, nance, cashew.
FARM HOUSE: The farm also has a house 121.68 sq. meters for living purposes (made of blocks, skyline ceiling, tiled floor, sliding windows) that has an open plan floor living room, dining room and kitchen.
Other nice attributes of the house are 3 rooms with air conditioning, 1 bathroom, laundry area, permanent well water with turbine and reserve tank of 6,000 liters, storage area, permanent electricity, and a work galley.
The house is fenced with cyclone mesh. There is access to satellite internet.
Please contact Casa Solution if you would like to view this property or have questions about this Farm with House, with the potential for Productive Agriculture plus a Stream for Sale in Veraguas, Panama.
---
Área de producción agrícola con riego por goteo: 7 hectáreas (lotificada en 11 lotes con parcelas con promedio de 2,000 m2 por válvula. Incluye más de 1,300 metros de
tubería de conducción y distribución).
En el pasado, se produjo los siguientes cultivos escalonados en la finca : camote, yuca, otoe, ñame diamante, maíz.
Plantación básica de cultivo para protección de suelos : valeriana/vetiver ( Chrysopogon zizanioides ).
Las condiciones climáticas de la finca son ideales para la producción de frutales de alta calidad (alto contenido de azúcar) tales como: mango, papaya, piña y cítricos. También ideal para aguacates, plátano, achiote ( Bixa orellana , 50 plantas en producción) y Moringa ( Moringa oleifera ) para reproducir. Además, hortalizas y vegetales que gustan de este clima como sandía, melón, pepino, tomate, y muchos más.
Área agropecuaria ideal para ganado de engorde: 9 hectáreas (planas a ligeramente ondulado) actualmente con pasto faragua o jaragua. Acceso a agua limpia. Ideal para manejo intensivo de 10 a 15 cabezas de ganado en sistema semi estabulado. Esta área es también idónea para proyecto de energía solar, siembra de frutales/forestales o producción de caña de azúcar.
Bosque de recarga hídrica y de protección natural a fuente de agua: 4 hectáreas.
Contiene una gran variedad y cantidad de especies nativas como laurel, macano, cedro amargo, guayacán, maría, matillo, jagua, chumico, guácimo, espino amarillo y blanco. Excelentes condiciones para producir bambú tipo guadúa para construcciones rurales, teca y caoba.
Quebrada con agua viva todo el año.
El análisis de suelo indica pH de 5.7, materia orgánica 3 a 4 %, textura Franco-Arenoso a Franco-Arcilloso. Precipitación anual de 1,200 a 1,500 milímetros.
La finca tiene acceso muy bueno todo el año (1.5 kilómetros de terracería desde la carretera pavimentada que conduce hacia Calobre) y se encuentra en el límite del Arco
Seco, en el distrito de Calobre, Veraguas, Panamá. Altura de 260 metros sobre el nivel del mar.
Temperaturas promedio están en el rango de 22 a 37 grados centígrados (71 a 98 F).
Santiago de Veraguas queda a 50 kilómetros y Aguadulce queda a 45 kilómetros. Ambas ciudades tienen instalaciones modernas de salud, restaurantes, supermercados, centros comerciales, cines, estaciones gasolineras, etc.
Cerca perimetral de casi 1,900 metros con postes vivos de carate ( Bursera simaruba ) y otras especies como poró, nance, marañón.
Total de 23 hectáreas.
CASA DE FINCA:
La finca también tiene una casa de 121.68 metros cuadrados, paredes de bloques, cielo raso de skiline y piso de baldosa, techo esmaltado y ventanas corredizas. El diseño es de una planta abierta con sala, comedor, cocina. Con 3 habitaciones con aire acondicionado, 1 baño, área de lavandería, agua permanente de pozo con turbina y tanque de reserva de 6,000 litros, depósito, electricidad permanente, galera de trabajo. La casa está cercada con malla ciclón. Acceso a internet satelital.