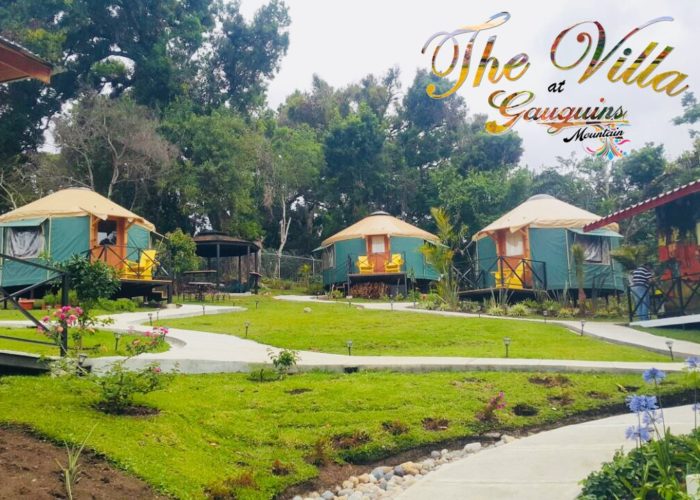 Glamping, Glamorous Camping in the Mountains of Boquete – Short Term Vacation Rentals – 3 Yurts Available
Location
: Alto Quiel, Boquete, Panama
Glamping Yurts
It's a centuries old dwelling style still in use today in much of the world. Circular in shape, dome roof and built off the ground on a wood platform. The Yurts at Gauguin's Mountain were fabricated in the USA of high tech materials and the dome roof has a window at the top center.
There are three Yurts with these common characteristics:
• Dome window
• 2 or 3 screened wall windows
• Teak flooring
• Entry decks with metal railing and wood and glass doors.
• Keyed door hardware
• Comfortable furniture including tables, chairs, closets, and cozy beds with quality mattresses and duvets with faux fur throws.
Yurt #1 Panama themed decor. Queen sofa bed.
Yurt #2 Peru themed decor. Queen bed. Sleeps up to 4 persons.
Yurt #3 France themed. Full/double size bed. Sleeps 2 persons.
All Yurts: To retain the natural effect of these unique dwellings the Yurts have no electric lighting or plumbing. Each Yurt is supplied with 2 battery powered lanterns bright enough to read by.
Electricity/Power– your devices can be charged in the gathering space/salon only a few steps away.
Hair dryers etc can be used in the bathhouse.
Plumbing/Hygiene– our brand new bathhouse houses 6 separate private rooms. 2 toilet chambers, 2 vanity chambers, and 2 shower chambers, one of which includes a free standing bathtub. Each separate chamber is lockable and completely enclosed for total privacy.
Available for up to 4 people per yurt.

Price shown is the  price per night per person.  Available individually or as a package.
Two cabins are also available in addition to the three glamping yurts for five total short term vacation rental options. 
Please contact Casa Solution to confirm pricing and availability for your specific dates and for more information.
From Your Hosts: "We appreciate your interest in staying with us at The Villa Gauguin's Mountain.
We are a husband and wife who moved to Boquete from the United States 17 years ago and have created our final home on this exquisite property in the Alto Quiel area of Boquete at a refreshing elevation of 1600 meters (5269 ft).
Alto Quiel is a 10 minute scenic drive up the mountain from Central Boquete.
Inspired by the beauty that surrounds us we enjoy the majestic views of Volcan Baru and the Pacific coastline in the distance, and beautiful star filled nights above us. But, mostly it's the tranquility of life here that attracted us.
We enjoy art and admire the work of the French artist Paul Gauguin (1848-1903) whose Tahiti pictures seem a natural complement to these surroundings. Especially his most celebrated work:
WHERE DO WE COME FROM?
WHAT ARE WE?
WHERE ARE WE GOING?
This huge mural has been beautifully rendered on a central wall in our salon by a local artist, and it keeps us in these eternal questions.
These questions led us to ask how we might share the land, the views, the painting, and the tranquility of this mountain with others. Thus, Gauguin's Mountain was born.
Well, as happens, one thing led to another and starting with our design and talented local craftsmen, two cabins were constructed of cedar, corotu,and teak woods reflecting both a tropical and mountain style.
Then three Mongolian style dwellings called "Yurts"were erected, each reflecting in its decor the life of Paul Gauguin: born in France, raised in Peru, with an episode in Panama and the most consequential period of his life in Tahiti.
In the process of completing the 5 comfortable rentals (and spending nights in each of them to get them just right for our guests) we realized that for 2 important elements we had to go to the drawing board.
The Results are:
Rocky´s Cafe and Lounge (named after our Border Collie who joyfully patrols the property)
Le Maison du Jouir, The House of Pleasure. Named by Gauguin as his final home on the island of Hiva Oa.
These additions to open August, 2018 offer meals, snacks, videos, game tables, a Gauguin library, a boutique and, of course, a place to meet new friends.
Naturally, relaxing in the mountains means sitting in front of a "campfire" and you can do just that under a roofed gazebo under the trees and under the stars.
Integral to our vision for The Villa at Gauguin´s Mountain is a place for musical, cultural, corporate and family events, thus was born La Galerie. Opening September 2018 with an exhibition and sale of art by creative Chiricanos, a portion of the sale price will go to local charities.
Our overall goal is to provide space to renew  appreciation of the Arts, Nature and Innovation.
We sincerely hope you will agree that  our joyful endeavor serves the above purpose.
We look forward to meeting you!"
Price shown is the estimated daily price per person.  Please contact Casa Solution for pricing for your particular dates.