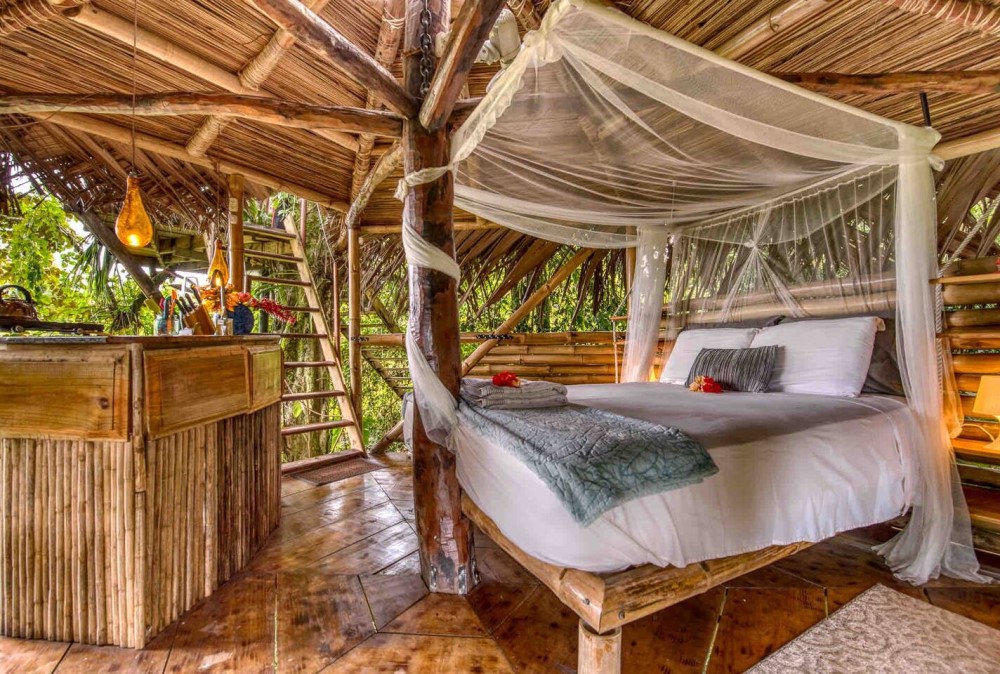 Island Jungle Hotel Resort for Sale in Bocas Del Toro, the famous Panama Caribbean Destination – Resort Hotel en la Selva de una Isla a la Venta en Bocas del Toro, el Famoso Destino Caribeño de Panamá
Lot Size
: 4,050 Sq.M
1.00 Acres
Location
: Bocas del Toro, Bocas del Toro, Panama
Welcome to what could be your new tropical island life in Bocas del Toro, the famous Panama Caribbean destination.
This property is a gorgeous 1 acre paradise boutique resort property on Isla Colon in Bocas del Toro, Panama. The property sits across the road from the ocean, on the curving the island at the end of Paunch beach. It provides beautiful views, sea breeze and the constant sound of waves. It is 6 KMS away from the hustle and bustle of Bocas Town.
Bluff beach, famous for miles of sandy secluded shores, is only a short stroll away, as is a beautiful adjacent hidden beach less than a 5 minute walk away, perfect for swimming, snorkeling and surfing.
The jungle area with its majestic trees and tropical flowers and plants has been maintained, whilst transforming it into a jungle park with stone walkways throughout.
There are now 3 separate, fully equipped rental homes as follows:
The Villa: A 3 bedroom villa overlooking the Caribbean (sleeps 5)
The Treehouse: An absolutely unique, authentic tree house, suspended in the tropical forest.(sleeps 2).
The Casita: Also one cozy, bright fully equipped cabin. (Sleeps 2).
All the residences have a kitchen and toilet facilities with a shower.
There is plenty of room to expand for more additional structures if desired. The owners already had plans prepared for a four bedroom additional house.
REVIEWS
All the accommodations have been given excellent reviews, a 4.9 rating out of 5. Truly a 5 star property. Because the resort is so welcoming, eco friendly (Green) throughout, and absolutely unique, without any viewing neighbors, it generates wonderful returns financially.
SUPPORTING INFRASTRUCTURE
The entire property functions with an excellent and very efficient solar electric power system. Although electric service has recently been installed in front of the property there is no need to use it, even though the property has been wired for that eventuality if desired. Reliable High Speed WiFi is accessible throughout the property.
Please contact Casa Solution if you would like to view this property or have questions about this Jungle Island Hotel Resort for Sale in Bocas Del Toro, the famous Caribbean Destination  in Panama.

Resort Hotel en la Selva de una Isla a la Venta en Bocas del Toro, el Famoso Destino Caribeño de Panamá
Bienvenido a lo que podría ser su nueva vida en una isla tropical en Bocas del Toro, el famoso destino caribeño de Panamá.
Esta propiedad es una hermosa propiedad resort boutique paraíso de 1 acre en Isla Colón en Bocas del Toro, Panamá.   La propiedad se encuentra al otro lado de la carretera desde el océano, en la curva de la isla al final de la playa de Paunch.  Brinda hermosas vistas, brisa marina y el constante sonido de las olas.   Se encuentra a 6 KMS del ajetreo y el bullicio del pueblo de Bocas.
La playa Bluff, famosa por millas de playas aisladas de arena, está a solo un corto paseo, al igual que una hermosa playa oculta adyacente a menos de 5 minutos a pie, perfecta para nadar, bucear y surfear.
Se ha mantenido el área de la jungla con sus majestuosos árboles y flores y plantas tropicales, transformándola en un parque selvático con pasarelas de piedra en todas partes.
Ahora hay 3 casas de alquiler independientes y completamente equipadas de la siguiente manera:
La Villa: Una villa de 3 dormitorios con vista al Caribe (para 5 personas)
La Casa del Árbol: Una auténtica casa en el árbol absolutamente única, suspendida en el bosque tropical (2 personas).
La Casita: También una cabaña acogedora y luminosa totalmente equipada. (2 plazas).
Todas las residencias tienen cocina y baño con ducha.
Hay mucho espacio para expandirse para más estructuras adicionales si lo desea. Los propietarios ya tenían planes preparados para una casa adicional de cuatro habitaciones.
OPINIONES
Todos los alojamientos han recibido excelentes críticas, una calificación de 4.9 sobre 5. Verdaderamente una propiedad de 5 estrellas.  Debido a que el complejo es tan acogedor, ecológico (verde) en todas partes y absolutamente único, sin vecinos que lo vean, genera maravillosos beneficios económicos.
INFRAESTRUCTURA DE APOYO
Toda la propiedad funciona con un excelente y muy eficiente sistema de energía solar.  Aunque recientemente se ha instalado el servicio eléctrico frente a la propiedad, no hay necesidad de usarlo, aunque la propiedad ha sido cableada para esa eventualidad si se desea.   Hay WiFi de alta velocidad confiable en todo el establecimiento.
Por favor comuníquese con Casa Solution si desea visitar esta propiedad o si tiene preguntas acerca de esta Resort Hotel en la Selva de una Isla  a la Venta en Bocas del Toro, el Famoso Destino Caribeño de Panamá