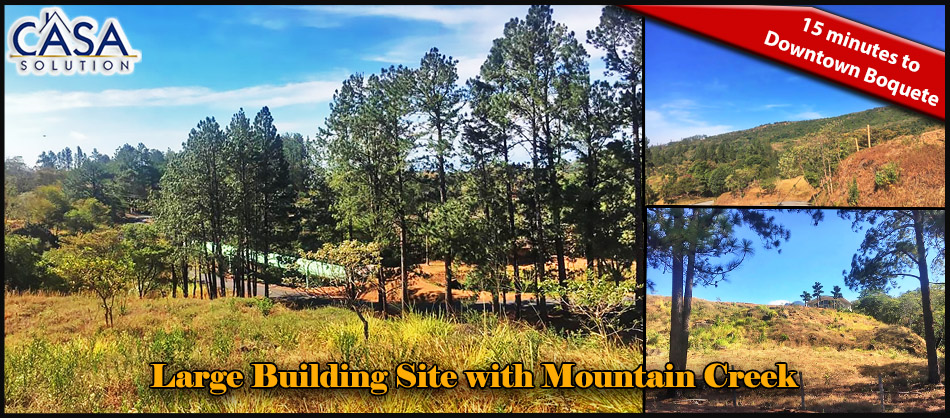 Large Building Site Lot with Mountain Creek for Sale in the Alta Vista Community, Boquete, Panama
Lot Size
: 5,743 Sq.M
1.42 Acres
Location
: Jaramillo, Boquete, Panama
This is a beautiful large building site in a lovely small community in Boquete.
This property has over 1.4 acres of land on two plateaus.  The higher level is relatively flat and located next to large quality homes and by the lake of the community.  The lower level of the lot is also mostly flat with direct access to the street bordering the lot.
Along the side of the property is a mountain creek that provides a sweet water feature.
This would be a very nice lot for terraced gardens.
The site offers versatile options for house, guest house and grounds.
The area here is quiet and peaceful.  It is about 15 minutes to downtown Boquete on paved roads.
Alta Vista is located very close to Lucero with its amenities and 18 hole championship golf course.
Please contact Casa Solution for more information or to visit this Large Building Site Lot for Sale in Alta Vista Community, Boquete, Panama.
---
Lote de Terreno Grande con Arroyo de Montaña en Venta en la Comunidad de Alta Vista, Boquete, Panamá
Este es un hermoso sitio de construcción grande en una hermosa comunidad pequeña en Boquete.
Esta propiedad tiene más de 1.4 acres de tierra en dos mesetas.  El nivel superior es relativamente plano y está ubicado junto a casas de gran calidad y junto al lago de la comunidad.  El nivel inferior del lote también es mayormente plano con acceso directo a la calle que bordea el lote.
A lo largo del costado de la propiedad hay un arroyo de montaña que ofrece una fuente de agua dulce.
Este sería un lote muy bonito para jardines en terrazas.
El sitio ofrece opciones versátiles para casa, casa de huéspedes y terrenos.
El área aquí es tranquila y pacífica. Está a unos 15 minutos del centro de Boquete por caminos pavimentados.
Alta Vista se encuentra muy cerca de Lucero con sus comodidades y campo de golf de campeonato de 18 hoyos.
Por favor comuníquese con Casa Solution si desea visitar esta propiedad o si tiene preguntas acerca de este Gran Terreno en Venta en la Comunidad de Alta Vista, Boquete, Panamá.