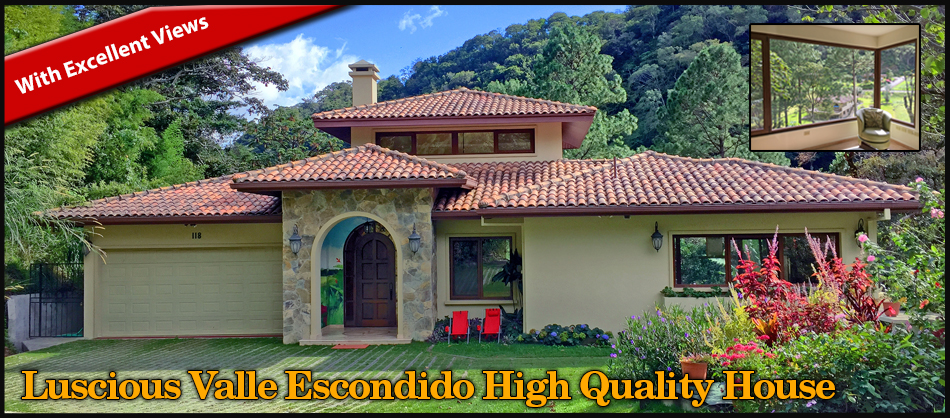 Luscious Valle Escondido High Quality House for Sale with Excellent Views – This is a Particularly Impressive Residence – Furnishings Included – Exquisita Casa de Alta Calidad en Valle Escondido en Venta con Excelentes Vistas
Price Furnished
: $649,000
House Size
: 3,600.00 Sq.Ft
334.45 Sq.M
Lot Size
: 823 Sq.M
0.20 Acres
Location
: Downtown Boquete, Boquete, Panama
This is one of the finest houses for sale in Valle Escondido, Boquete, Panama.   Luscious is the word that comes to mind to describe the utmost quality and setting of this fine residence.
The house is located in a private corner of Valle Escondido's desirable Estates section – one of the most exclusive high-end neighborhoods in all of Panama.
As you enter the Estates section, you pass the interior entry gates then drive along the golf course past Boquete's largest and most luxurious homes.  You then wind around over a mountain stream to encounter this house tucked into a sweet corner with a bird's eye view of the Valle Escondido golf course and valley.
Parking is easy for residents and guests as well as is entry through the covered portal from the wide driveway.   As you walk into the home, the high ceilings coupled with expansive windows, open floor plan and stellar tropical views are striking.   The living room dining room areas invite you to step into a very comfortable yet elevated setting.  Everything is of fine quality, yet subtle.  Even the expensive multi-directional windows bringing in gentle breezes and the doors leading to the enormous covered patio are big steps up from the norm.
As a new visitor, curiosity leads to the temptation to go immediately to the patio to see the unique view.  Stepping outside, you are greeted with the strong sound of Valle Escondido's year-round mountain stream below.  The views of the golf course, the tall trees and the valley when shared with the babbling water are enchanting.
Back inside, you might notice the first of three fireplaces, the large chandelier, high ceiling windows and the dining room's has picture window views that will make you want to stop, sit down and take them in.
Then the kitchen… more windows bring light into the beautiful kitchen.  The kitchen has high-end cabinets, a large island and counter with seating places for ease of socializing.  The appliances are high quality and the wrap around counter top for food prep is long.   There are plenty of cabinets for food storage.
There are lovely built-in cabinets in the bedrooms.  The master bedroom has a walk-in closet.  The bathrooms are tasteful tile with glass walled rain water showers along with artistic inset bowl sinks.
Stylish sliding doors into one of the bedrooms brings further craftmanship into the space.
Furnishings are included in the price.
The enclosed garage is a nice feature.  There are no stairs except those that bring you down through the gardens past tropical plants to mountain stream below.
The house is relatively new, is a one story house and is in impeccable condition.
Valle Escondido is the most amenity-rich and established gated community in Boquete Panama.  Amenities include restaurants, a well-equipped gym,  swimming pool, spa with many services, challenging executive golf course, tennis courts and more.  Valle Escondido is alongside Boquete's downtown making all of Boquete's town fun just outside the Valle Escondido gates.
*******************
Exquisita Casa de Alta Calidad en Valle Escondido en venta con excelentes vistas – Esta es una residencia particularmente impresionante – Muebles incluidos
Esta es una de las mejores casas en venta en Valle Escondido, Boquete, Panamá. Exquisito es la palabra que se me viene a la mente para describir la máxima calidad y entorno de esta excelente residencia.
La casa está ubicada en un rincón privado de la deseable sección de inmuebles de Valle Escondido, uno de los barrios de lujo más exclusivos de todo Panamá.
Al ingresar a la sección de inmuebles, pasa por las puertas de entrada interiores y luego pasa por el campo de golf pasando las casas más grandes y lujosas de Boquete. Luego vuele alrededor de un arroyo de montaña para encontrar esta casa escondida en un rincón dulce con una vista de pájaro del campo de golf Valle Escondido y el valle.
El estacionamiento es fácil para los residentes e invitados, así como también es la entrada a través del portal cubierto desde el amplio camino de entrada. Al entrar en la casa, los techos altos junto con las ventanas amplias, el plano de planta abierto y las vistas tropicales estelares son sorprendentes. Las áreas del comedor de la sala lo invitan a entrar en un ambiente muy cómodo pero elevado. Todo es de buena calidad, pero sutil. Incluso las costosas ventanas multidireccionales que traen brisas suaves y las puertas que conducen al enorme patio cubierto son grandes pasos desde la norma.
Como nuevo visitante, la curiosidad lleva a la tentación de ir inmediatamente al patio para ver la vista única. Al salir, te reciben con el fuerte sonido del arroyo de montaña de Valle Escondido durante todo el año. Las vistas del campo de golf, los árboles altos y el valle cuando se comparte con el balbuceo del agua son encantadores.
De vuelta adentro, es posible que notes la primera de las tres chimeneas, la gran lámpara de araña, los altos ventanales del techo y las vistas de la ventana del comedor que te harán querer pararte, sentarte y disfrutar de ellas.
Luego, la cocina … más ventanas traen luz a la hermosa cocina. La cocina tiene gabinetes de alta gama, una isla grande y un mostrador con asientos para facilitar la socialización. Los electrodomésticos son de alta calidad y el mostrador envolvente para la preparación de alimentos es largo. Hay muchos armarios para el almacenamiento de alimentos.
Hay preciosos armarios empotrados en las habitaciones. El dormitorio principal tiene un walk-in closet. Los baños son de baldosas de buen gusto con duchas de agua de lluvia de paredes de vidrio junto con sumideros de cuencos de inserción artística.
Las elegantes puertas correderas en uno de los dormitorios añaden más artesanía al espacio.
Los muebles están incluidos en el precio.
El garaje cerrado es una buena característica. No hay escaleras, excepto las que te llevan a través de los jardines más allá de las plantas tropicales al arroyo de la montaña a continuación.
La casa es relativamente nueva, es una casa de una planta y está en condiciones impecables.
Valle Escondido es la comunidad cerrada más rica en servicios y establecida en Boquete Panamá. Las comodidades incluyen restaurantes, un gimnasio bien equipado, piscina, spa con muchos servicios, desafiante campo de golf ejecutivo, canchas de tenis y mucho más. Valle Escondido se encuentra junto al centro de Boquete haciendo que toda la ciudad de Boquete sea divertida a las afueras de las puertas de Valle Escondido.