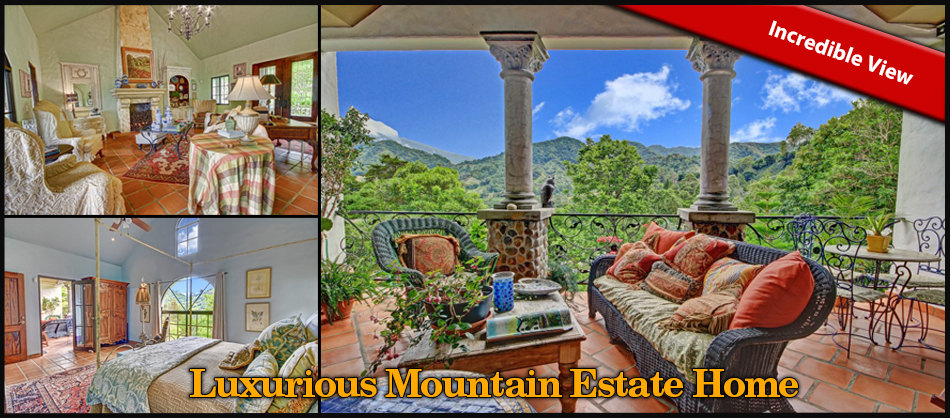 Luxurious Mountain Estate Home with Tremendous View & Rental Apartment – Lujosa Propiedad de montaña con increíble vista
House Size
: 4,200.00 Sq.Ft
390.19 Sq.M
Lot Size
: 2,023 Sq.M
0.50 Acres
Location
: Palo Alto, Boquete, Chiriqui, Panama
Property Features
: Fireplace, Garage, Landscaped Gardens, Mountain View, Volcan Baru View, Volcan Baru View
A Very Special Feature
: A great location with amazing views.
In the Springs de Boquete, Boquete's premier boutique community close to downtown, is this luxurious home with an incredible mountain view of Volcan Baru above and Kotowa's prime coffee fields below.  The house is surrounded by exquisite gardens and borders one of the rarely visited green area parks of the community.
Magnificent in-laid glass wood front doors, striking columns and a classic chandelier welcome you. As you enter the open floor plan living room, you see past the lovely finishes and grand fireplace through the picture windows to a magnificent view.  Soft curved arches complement the antique style accents. The house has the large master bedroom suite with master bathroom on the entry floor for ease of use.
The kitchen, living room, master bedroom, guest bath and garage are all on the main entry floor. Step down to the second floor to find 2 additional bedrooms, 2 bathrooms and a kitchenette. The downstairs provides a great additional rental option for added income or visitors' retreat. A 2 car garage too. Beautiful Spanish tile roof. The main floor ceilings are high and the kitchen is huge adding to the grandeur. Oversized refrigerator and freezer unit make for ease of entertaining.
Wood beams and curved wood accents accentuate to the quality setting.  Mexican tile in various rooms lend a Latin flair. The outdoor fireplace warms your toes as you bundle up on the covered huge balcony on cool Boquete nights while enjoying the changing moods of Volcan Baru, the occasional mists swirling in the Valley and the sun setting over the top of Baru, a wonderful sight from this vantage point. Huge windows in the house provide an artist's view perfectly positioned to frame mountain features.
***********************
Lujosa Propiedad de montaña con increíble vista
En The Springs de Boquete, primera comunidad exclusiva Boquete cerca del centro, es esta lujosa casa con una vista increíble de la montaña del Volcán Barú arriba y campos de café de primera Kotowa de abajo. La casa está rodeada de jardines exquisitos y limita con uno de los parques de la zona verde poco frecuentados de la comunidad.
Magníficas puertas de vidrio en la madera, columnas llamativos y una lámpara de araña clásica le dan la bienvenida. Al entrar en la sala de estar de planta abierta, que se ve más allá de los preciosos acabados y gran chimenea a través de las ventanas de imagen a una vista magnífica. arcos curvos suaves complementan los acentos de estilo antiguo. La casa tiene la gran dormitorio principal con baño principal en la planta de entrada para facilitar su uso.
La cocina, salón, dormitorio principal, baño de invitados y garaje están todos en la planta principal de entrada. En la segunda planta podrá encontrar otros 2 dormitorios, 2 baños y una zona de cocina. La planta baja ofrece una gran opción de alquiler adicional de ingresos o laestadia de los visitantes. Hay un garaje para 2 coches también. techo de tejas españolas hermosa. Los principales techos son altos y la cocina es enorme adición a la grandeza. refrigerador de gran tamaño y unidad de congelación hacen para facilitar la entretenida.
Vigas de madera y detalles en madera curvadas acentúan a la configuración de la calidad. azulejo mexicano en varias habitaciones prestan un toque latino. La chimenea al aire libre calienta los dedos a medida que abrigarse en el enorme balcón cubierto en las noches frías de Boquete mientras disfruta de los estados de ánimo cambiantes del Volcán Barú, las nieblas ocasionales se arremolinan en el valle y la puesta de sol en la parte superior del volcán Barú, una vista maravillosa de esta punto de vista. Enormes ventanas de la casa proporcionan la visión de un artista perfectamente posicionado para enmarcar características de montaña.