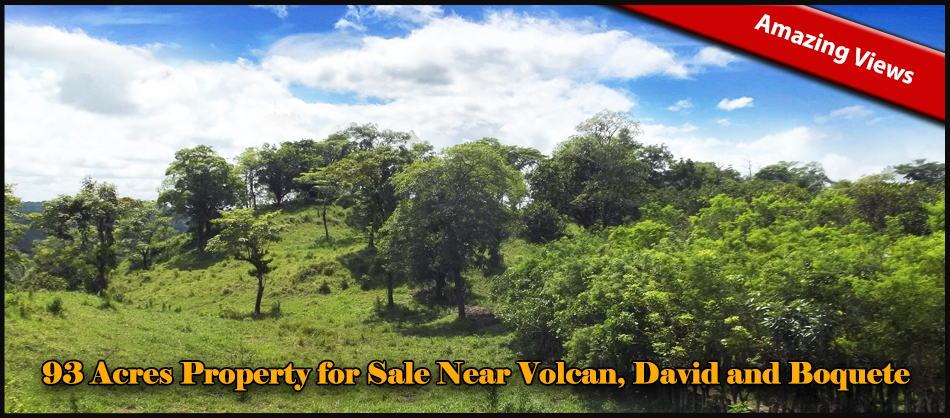 69 Acre Panama Farm or Development Property for Sale Near Volcan, David and Boquete, Panama – 69 Acres de Granja o Desarrollo de Propiedad en Venta Cerca de Volcan, David y Boquete, Panama
Lot Size
: 280,000 Sq.M
69.19 Acres
Location
: El Santo, David, Panama
This huge parcel is currently used for cattle grazing.
It has lots of excellent home site options, plenty of fruit and other trees and great views of the hills and river.
The property borders a river and has natural springs.   This is truly beautiful farm land with cool weather living.
Listed under Volcan due to proximity. Also close to David and less than an hour to Boquete.
Ask about owner financing now available.
This is a great opportunity to have a farm, development property or estate property in Panama.  Please contact Casa Solution for more information or for a visit.
****************
69 Acres de Granja o Desarrollo de Propiedad en Venta Cerca de Volcan, David y Boquete, Panama
Esta gran parcela  actualmente se utiliza para el pastoreo de ganado.
Tiene muchas opciones excelentes de sitios para el hogar, muchas frutas y otros árboles y excelentes vistas de las colinas y el río.
La propiedad bordea un río y tiene manantiales naturales. Esta es realmente una hermosa tierra de cultivo con una vida fresca.
Listado bajo Volcan debido a la proximidad. También cerca de David y menos de una hora a Boquete.
Pregunte sobre el financiamiento del propietario ahora disponible.
Esta es una gran oportunidad para tener una granja, propiedad de desarrollo o propiedad de una propiedad en Panamá. Por favor, póngase en contacto con Casa Solution para obtener más información o para una visita.
¿Quieres toda la granja? Más propiedades agrícolas adyacentes, casas y equipos también están a la venta del mismo propietario. Para obtener más información sobre toda la granja, visite esta página: Hermosa granja de productos lácteos y carne de vaca en venta