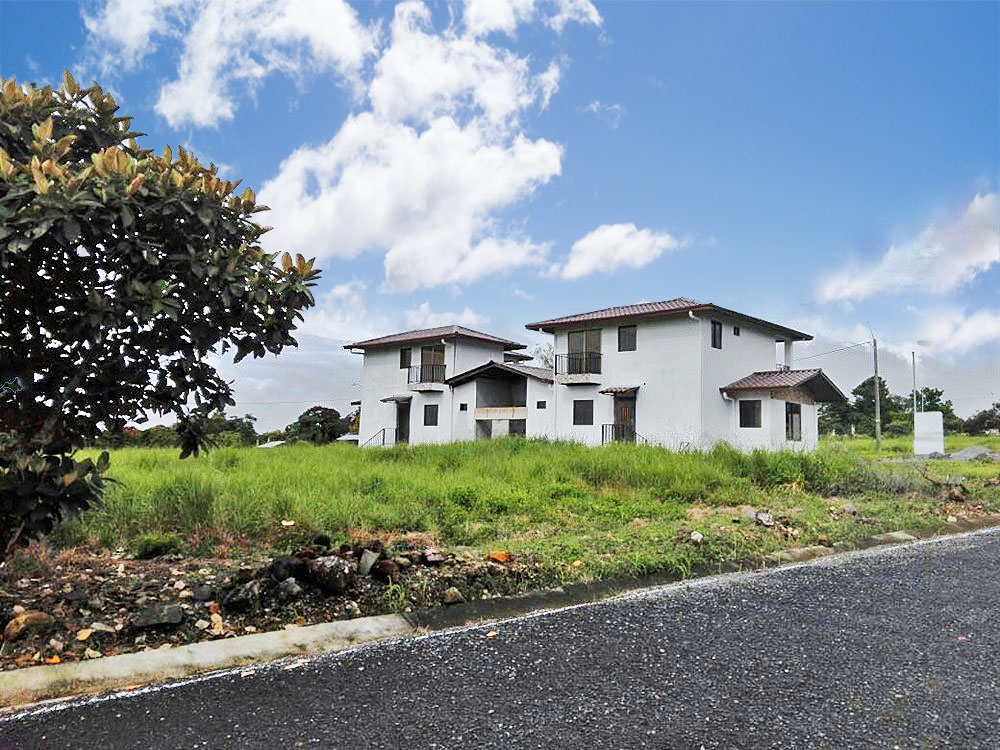 Two Unit Duplex Townhouses for Sale in El Olimpo, Boquete Panama – Price is For Both Units Combined – Dos Unidades Duplex Adosados en Venta en El Olimpo, Boquete Panamá
House Size
: 4,310.00 Sq.Ft
400.41 Sq.M
Lot Size
: 1,119 Sq.M
0.28 Acres
Location
: Alto Boquete, Boquete, Panama
This double Boquete building consisting of two duplex units is now available for sale.
The two duplexes are priced together meaning buy both units for the total price shown.
The duplex townhouses are in El Olimpo, a gated community with beautiful views in Alto Boquete, Boquete, Panama.
Each townhouse is three bedrooms, two and a half bathrooms for a total of six bedrooms, six baths (four of them full baths) .
The duplexes each have two bedrooms with balconies that have great views.
The residences would make great rentals for an investment property or would be appropriate for friends or family buying together.
Please contact Casa Solution if you would like to view this property or have questions about this  in Panama.

Dos Unidades Duplex Adosados en Venta en El Olimpo, Boquete Panamá
Concluyendo construcción, este edificio doble de Boquete que consistiendo en dos unidades dúplex está ahora disponible para la venta.
Las dos dúplex tienen un precio conjunto lo que significa comprar ambas unidades por el precio total mostrado.
Las dúplex se encuentran en El Olimpo, una comunidad cerrada con hermosas vistas en el Alto Boquete, Boquete, Panamá.
Cada casa es de tres dormitorios, dos baños y medio para un total de seis dormitorios, seis baños (cuatro de ellos baños completos).
Los dúplex tienen cada uno dos dormitorios con balcones que tienen excelentes vistas.
Las residencias harían grandes alquileres para una propiedad de inversión o sería apropiado para amigos o familia comprar juntos.